Over 142 murder and manslaughter investigations launched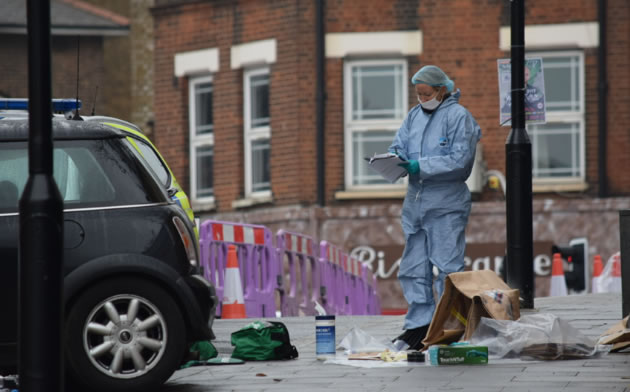 A murder scene from earlier this year in Ealing. Picture: Liz Jenner
There have been more killings in London this year than in 2018, police have confirmed. On Monday, 47-year-old James O'Keefe was stabbed to death in Hornsey, bringing the total number of homicides this year to 142.
This makes 2019 the worst year on record for murder and manslaughter since 2008.
The Met has launched 137 homicide investigations, as of yesterday (Tuesday 11 December). There have been two killings in the City of London – Jack Merritt and Saskia Jones, the victims of the London Bridge terror attack last month. And the British Transport Police is also investigating three murders in the city.
Politicians have expressed sadness at the loss of life, and called on the Mayor of London to act. Sadiq Khan has presided over a period of rising violence in the capital – though murders were already increasing by the time his predecessor, Boris Johnson, left City Hall. Mr Khan has taken a public health approach to violent crime, following the examples of Glasgow and Chicago. This means seeing violence as part of a wider context, with long term investment to tackle the causes of crime before it happens.
In Scotland, murders have more than halved since the public health approach began in 2005.
Last year, Mr Khan set up London's Violence Reduction Unit, bringing police, local councils, youth services and community groups together to tackle the problem in the capital.
But Conservative mayoral candidate Shaun Bailey said the city needs more police. He said: "Londoners are being stabbed and shot in record numbers and Sadiq Khan has done nothing but point the finger of blame elsewhere. That's the opposite of leadership.
"Instead of keeping his PR spending and City Hall bureaucracy at record levels, the Mayor should be following my plan and shifting that wasted money into our police service to hire more officers and keep Londoners safe."
Mr Bailey said police should use new body scanning technology, and gangs should have 'call-in' meetings with community leaders to discourage violence.
He added: "Once the criminals are under pressure we can start to make real progress on addressing the causes of crime."
Liberal Democrat mayoral candidate Siobhan Benita said the violence in London was "tragic".
She said: "There is so much that the current Mayor could and should be doing to tackle this epidemic. It will be my number one priority."
Ms Benita would aim to legalise cannabis, reopen police stations in local communities, and provide after-school activities for children.
She said: "Londoners can rest assured that I won't rest unless the crime epidemic is eradicated."
A spokesperson for the Mayor said: "Every death as a result of violent crime is a terrible loss, leaving families heartbroken and deeply affecting communities across London.
"The Mayor is committed to doing everything he can to tackle the issue and is funding the Met Police's Violent Crime Taskforce, which is targeting serious offenders and removing dangerous weapons from our streets.
"But we know the best time to stop violent crime is before it starts.

Jessie Matthewson - Local Democracy Reporter

December 12, 2019