RMT say support is rock solid and move necessitated by 'anti-union laws'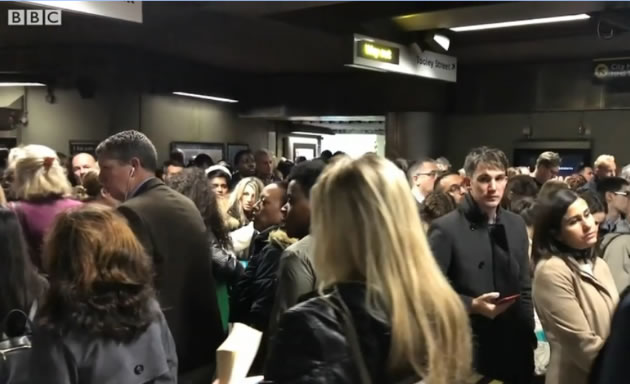 Overcrowding at a train station
After resuming work for one day during the General Election the strike on South Western Railway has now resumed.
The RMT have announced that they are to re-ballot their members over the industrial action which has been running since the beginning of the month and will continue through to the New Year unless suspended.
They say the ballot is the sixth they have undertaken and that it is necessary 'under Tory anti-union law'. They claim that support for continued strike action is 'rock solid' among their members.
In a message to the membership RMT General Secretary Mick Cash said, "Once again I would like to take this opportunity to thank and congratulate you and your colleagues for the magnificent show of solidarity and the loyal support you have shown throughout this long running difficult dispute. The industrial action taken to date has been solidly supported and proves how determined our members are to defend the role of the Guard and stand against SWR plans to extend DOO.

"This dispute is and always has been about Driver Only Operation and the role of the Guard. RMT and our members believe that nothing less than an operational method that clearly protects the safety critical role of the Guard is acceptable. SWR are making this dispute about the doors and if we accept their optimal method of operation, the company will eradicate the role of the Guard and extend 'driver open, driver close'.

"Regrettably, the 2016 Trade Union Act has made it necessary to re-ballot you and your colleagues for industrial action. Therefore, the union's National Executive Committee has taken the decision to re-ballot all our SWR Commercial Guard, Guard and Train Driver members for industrial action in order to continue our fight to protect the safety critical role of the Guard and to retain a Guard on SWR services."
The union say they are willing to re-enter talks with no pre-conditions under the auspices of ACAS.
South Western Railway have described the strike as 'disruptive and unnecessary'. They say they are committed to having guards on all trains and the union is striking only to retain the practice of guards operating the opening and closing of doors. On the latest trains used by SWR, the driver has responsibility for their operation. SWR say the system of driver controlled doors is in use on other networks across the country and has not presented any extra safety risk.
The company has managed to run about 50% of scheduled services by calling in non-union employees to help run trains. They are also operating longer trains and concentrating on keeping services as regular as possible during rush hour. Nevertheless, there has been substantial overcrowding on the trains that are running.

South Western Railway (SWR) has published its weekday strike timetable, for 2-20 December days on which industrial action is being held by the RMT.


December 13, 2019