Plan more than half of normal services as Thames Clippers increase regularity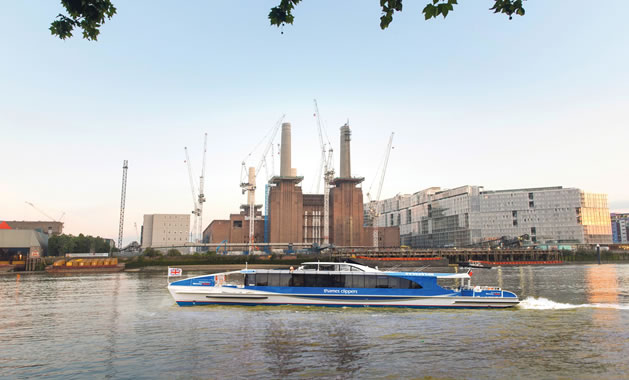 A Thames Clipper passes Battersea Power station
South Western Railway (SWR) has published its weekday strike timetable, for 2-20 December days on which industrial action is being held by the RMT.
It shows that they are planning to run more than half of normal services but the last train on each line will be earlier than normal. They will be running longer trains to maximise capacity and services at peak times will be similar to those provided during previous strikes.
There will be a reduced service on all London suburban lines including the Hounslow Loop.
They are yet to publish timetables for the Christmas Holiday period and for weekends. No services will operate on Christmas Day and Boxing Day as normal.
SWR say that they will keep a guard on every train in a safety critical role to help passengers, meaning the action by the RMT is unnecessary. They claim that all they are asking is that guards work with them to provide a modern, efficient train service.
While the RMT has informed SWR that they will not be striking on 12 December, owing to the prolonged nature of the strike it will not be possible to provide trains and crews in the correct locations to operate a normal timetable. As a result, there will also be an amended timetable on that day.
A South Western Railway spokesperson said, "We know this strike will make travelling more difficult and services will be busier than normal. We share your frustration and want you to know we're doing everything possible to keep customers moving during this unnecessary RMT strike action.
"We plan to run more than half of our normal Monday-Friday services and will provide longer trains in order to increase capacity wherever possible. Customers can expect a similar number of peak services to previous strikes. However, they should be aware that last services will be earlier than normal.
"We encourage customers to check our website southwesternrailway.com/strike for the latest travel information.
"Our train planners are now working hard on the weekend and festive period timetables. Details will be updated on our website and via @SW_Help."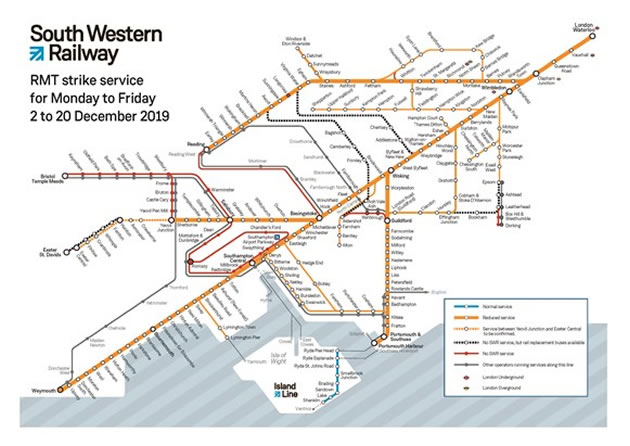 Between 2-20 December Thames Clippers will be bolstering its RB6 capacity during the peak morning commute enabling South West London commuters to take the River Bus into the capital. The frequent RB1 service also serves Battersea Power Station with departures every 20 minutes.
With its RB6 service calling at piers in Putney, Wandsworth Riverside Quarter, Plantation Wharf, Chelsea Harbour, Cadogan, Battersea Power Station and St George Wharf (Vauxhall), Thames Clippers takes passengers from the south west of the capital into commuting hubs like Embankment, Blackfriars, Tower, London Bridge City and Canary Wharf.
.
You can buy a season ticket via the Thames Clippers ticketing app, starting from £27 for a one-week (West Only) season ticket. Alternatively, passengers are able to use contactless payment and Oyster to pay as you go with Thames Clippers. Those commuters that do not need to travel everyday are advised consider a carnet: 10 pre-paid journeys for the price of 9, available via the Thames Clippers app.


November 25, 2019