Union allege there have been safety breaches during industrial action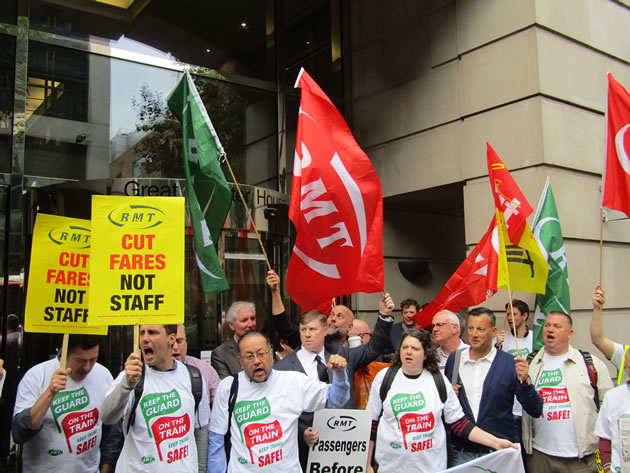 RMT members demonstrate outside the Department of Transport
The talks to resolve the current dispute on South Western Railway (SWR) have collapsed in acrimony with both sides blaming the other for their failure.
Management and unions met at the offices of the arbitration service ACAS this Wednesday (1 August) but the meeting ended with the industrial action set to proceed.
A South Western Railway spokesperson said, "We are disappointed that despite our best efforts today's talks with the RMT have failed to reach a resolution. We had hoped that by mirroring the wording of the agreement reached recently with Greater Anglia we could end this damaging dispute for the sake of our passengers and employees. However the RMT has refused to accept on SWR what they have accepted on Greater Anglia. Despite again giving assurances that we will roster a guard on all our services, including the new suburban fleet to be introduced in 2019, the union refused to agree to some flexibility during disruption as they have agreed with Greater Anglia."
The RMT claim there has been a 'catalogue' of safety abuses on South Western Railway abuses on the network as the operator seeks to maximise the number of trains still running.
The union has written to the safety regulator, the ORR, saying that the company paying volunteers to act as guards increases the risk to passengers. They claim that poorly trained volunteers incorrectly triggered the start signal to drivers on red signals at Raynes Park, Twickenham, St Margarets and Effingham Junction. Also selective door operation was allegedly not applied at Clapham Junction with doors released off the platform creating a risk of passengers falling on the tracks.
RMT General Secretary Mick Cash said, "The catalogue of failures we have raised with the safety regulator today show just how dangerous it is to run a railway on a wing and a prayer without competent, trained and experienced staff. No one should be playing Russian Roulette with passenger safety on our railways in this cavalier fashion.
"These potentially lethal failures can be avoided in the future if we secure an agreement that puts safety and access first."
SWR are publishing timetables for strike days which they are advising passengers to check before travelling. A significantly reduced service operated on the first day of the strike on Thursday 26 July and was further reduced on Saturday 28 July with just 50% of scheduled trains running. SWR say services will continue to be cancelled or delayed and others will be busier than usual. According to SWR nearly 70% of trains ran on Thursday and there was just a 12% reduction in passenger numbers at Waterloo with one in four guards scheduled to work reporting for duty. The RMT say their strike has been 'rock solid' so far.
Rail replacement buses and ticket acceptance with other operators has been put in place where possible and longer trains will be used to provide extra seating. Bus replacement services and ticket acceptance on other rail and bus networks are in place on a number of routes, and tickets for Saturday 28 July will also be honoured on Friday 27 July, Sunday 29 July or Monday 30 July 2018.
The RMT has instructed its members no to book on of any shifts on the following days:
Saturday 4 August
Saturday 11 August
Saturday 18 August 2
Friday 31 August
Saturday 1 September
The union claim that safety is compromised unless there is an absolute guarantee of a guard on all trains. South Western Railway say that they will roster guards on all services but that trains should be allowed to run in the event of one not being available. They argue that there is no evidence of any greater risk with a driver only operated train.

August 2, 2018