A course made for beginners and golfing practice
Central London Golf Centre is only a 2,332 yard, par 31, course, but it's a great place to practice and for beginners to take up the game.
There's no airs and graces here in Burntwood Road, at a course affectionally known by many South London golfers as "Royal Tooting".
Golfers need have no real need to worry about what they wear and those without their own clubs can hire them for £6.50 for 9 holes.
But it's not just aimed at beginners and, coupled with a visit to the driving range, more experienced golfers can treat it as a reasonable practice ground.
More seasoned golfers will find course conditions a bit rough-and-ready, and everyone has to watch for wayward balls as the tight fairways run right alongside each other. But, at £11 for a midweek round of 9 holes, you probably get what you pay for.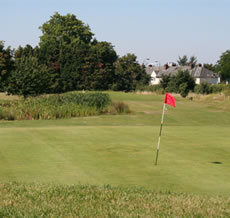 The opening hole is a 136-yard par 3, and with trees obscuring the green, there's quite a narrow target to aim for. It's a good warm-up for what is to follow.
Hole 2 runs alongside neighbouring Springfield Hospital and is a 363-yard par 4, with stroke index 1 on the scorecard. The green here is not the best and although I found it in three shots, I ended up three-putting and blaming the conditions.
The third hole is the longest on the course, at 413 yards for men and 405 yards for ladies. This is not the most scenic of courses, but by the time I got to the green of Hole 4 (342 yards), I took time to notice a beautiful tree at the back of the green.
Hole 5 is 422 yards for men and at 332 yards for ladies, it's the only one where women get a significant advantage.
The sixth hole, a 174-yard par 3, introduces the water - with a pond on the right, which also features on the final hole.
To get to the next two holes, you have to cross the course entrance and then it's onto Hole 7 - a 177-yard par 3. By now I was realising that it was best to avoid bunkers on this course as there are no rakes and not roo much sand - so it is not easy to get the ball out!
Hole 8 is the third of four par 3s in a row and at 151 yards is fairly straight forward. Completing this hole in par gets you set for the final challenge.
The last hole is a 141-yard par 3, right over the pond, which first appeared on Hole 6. The green is right in view of the clubhouse bar, so it's not the easiest of finishes. Thankfully my shot sailed above the ducks and landed beyond the green, but safe. A score of four was not a bad finish to my round.
Green fees at Central London Golf Centre are £11 for 9 holes on Mondays to Fridays (£17 for 18) and £13.50 for 9 holes (£27 for 18) at the weekend. There are discounts for 'twilight golf'. To book a tee time call 020 8871 2468.
June 22, 2010