Offering you a 9-hole challenge right on your doorstep
West London residents can fear they have to face the M25 for a round of golf, but Hampton Golf Course, near Twickenham, offers a 9-hole challenge right on their doorstep.
It's part of an attractive David Lloyd centre, with all the expected gym and other facilities, but golf can be played at anytime by non-members.
The course was opened by the Duke of York in 2004 and is near Hampton, Twickenham and Teddington, just off the A316, so a post-work round of 9 holes is possible during the mid-summer months.
It's actually next-door to Fulwell golf club next door and its opening coincided with Fulwell's centenary. It had been orginally been part of the Fulwell club and was later used as farm land as part of the 'dig for victory, programme in World War Two.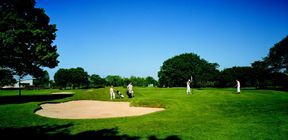 The course starts with an unremarkable 324-yard par 4 (314 yards for women), where as long as you make a couple of straight shots you can easily land on the flat green and start with a decent scorecard. The second hole, at 385 yards (354 yards for women), is a longer par 4 with a more testing, sloping green, with well-placed bunkers.
I found the fairways a little bare in places, but I've seen worse on a public course, and the greens were in good condition.
The prettiest hole on the course is the par-3 third, where men will need to hit 161 yards across a water feature to reach the centre of the green. This is where I try to visualise the pond in front of me as merely grass. But somehow the water sucked my ball in!
The 4th hole is the longest on the course and is a 486-yard par 5 (469 yards for women). By now the trees on this parkland course were coming into play and I'm afraid they got in my way when I came to play the par 3 5th hole.
The 6th hole was another where a straight aim from the tee is definitely essential. The hole I most enjoyed playing was the 7th, where the green is raised and surrounded by trees and bunkers. A fairway bunker is also placed to get in your way as well!
The short course winds to an end with a par-3 8th hole and the final hole is definitely scoreable as a par 4 at 245 yards for men and only four yards less for women.
For those who want to do the full 18 holes, the second 9 holes uses different tees. The total yardage for men is 5,420 and for women it is 5,148 yards.
As it only costs £11 for non-members to play 9 midweek holes (£22 for 18) and £13 on Saturday and Sunday, it's not too much of a price to pay for those who want golf almost on their doorstep.
The David Lloyd facilities are also excellent, with an immaculate bar and other public areas as well as a well-stocked golf shop. The bar prices probably reflect those in the area - at £1.70 for a Costa coffee Americano; £2.80 for a pint of Bass and £4.10 for a sandwich - I'd settle for paying that after finishing my round.
May 18, 2010