Wimbledon Tennis
---
A brief outline
History Of Wimbledon Outline
Wimbledon is the world's oldest tennis tournament, played at the All England Lawn Tennis Club. The private club was founded in 1868 and was initially known as The All England Croquet Club. It was renamed to The All England Lawn Tennis and Croquet Club in 1877, when new rules and regulations were created for the game.

The first Wimbledon Championship (1877) was advertised as "Lawn Tennis Meeting, open to all amateurs" and played at Worple Road in Wimbledon, pioneered by Walter Clopton Wingfield. In 1877, Gentlemen's Singles were introduced. It was won by player Spencer Gore and roughly 200 spectators paid one shilling each to watch the final. In 1922, the Championships moved to their current home on Church Road.

Women were prohibited from playing until 1884 when the "All England Club" opened its doors to both sexes. Lottie Dodd was (and remains) the youngest ladies' singles champion, aged 15, in 1887 and went on to win the Wimbledon Ladies' Singles Championship five times. In 1884, the club added Ladies' Singles and Gentlemen's Doubles competitions. Ladies' Doubles and Mixed Doubles events were added in 1913. Up until 1922, the defender of the title had to only play the final round to defeat the challenger who had played through the tournament for the Wimbledon cup.

Wimbledon is one of four grand slam tennis tournaments, the others being the Australian, French and US open events. The latter three are played on hard or clay courts, the Wimbledon Championship is the only Grand Slam event that is still being played on a traditional grass court. The tournament in 2018 will take place from the 2nd -15th July, with two matches every day on the Centre Court and No.1 Court.

Traditions

Strawberries and cream is a quintessentially British tradition in Wimbledon and has been served to spectators since 1877. During the Victorian era they became 'fashionable' to eat and their popularity has remained. On average, 10,000 litres of cream and 28,000 kg of strawberries are eaten at the tournament each year. Pimm's cocktails are also traditionally consumed at Wimbledon and have been served there since 1971, with over 80,000 pints of Pimm's cocktails served each year on average.

Wimbledon 2018

The 2018 Wimbledon Championships will be running from 2nd-15th July, with two matches every day on the Centre court and No.1 Court, usually starting at 1pm. This year will see some of the most renowned tennis players in the world take to the court, including Serena Williams, Rafael Nadal and Roger Federer.

For the ultimate experience, a variety of Wimbledon hospitality packages can be purchased from official provider Keith Prowse, for an unforgettable time right in the midst of the unique, unparalleled atmosphere that Wimbledon has to offer.

What To Wear To Wimbledon

Wimbledon is fashion centric, with a summery, sophisticated dress code - the rule is 'smart casual', with women usually options for structured dresses, smart co-ordinates and pastel colours. Men can opt for shirts, suits and tailored shorts. Apparel to avoid include; distressed jeans, flip flops, sportswear and logos.

How To Get To Wimbledon

Wimbledon is situated in South-West London.

The nearest tube stations are Southfields (District Line) and Wimbledon (District Line and MainLine), and the nearest train station is Wimbledon.

There is a shuttle bus service to the Grounds from Wimbledon.

Trams run every 5 minutes to Wimbledon from East Croydon, (Mon-Sat), and every 7/8 minutes on Sundays.

Drivers can find the venue by using SW19 5AG and SW19 5AF in their sat navs.
Visitors are strongly advised to use public transport wherever possible due to queues, traffic and parking limitations.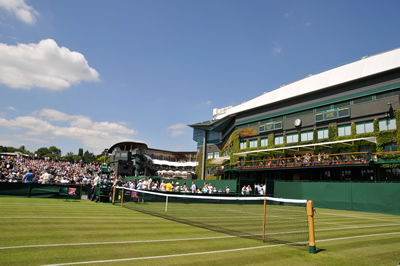 Advertorial
March 20, 2018