Nine-storey residential tower to be built alongside new YMCA block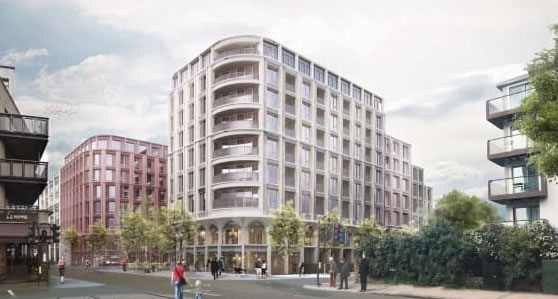 The planned YMCA building and residential block alongside are pictured above
Plans to replace the deteriorating YMCA building in Wimbledon town centre with a new eight-storey block, alongside a nine-storey private homes development, have been given the go-ahead by councillors.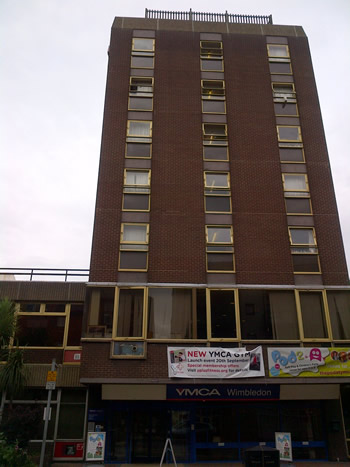 The proposals would see the YMCA – which provides short-term supported housing for over 16s – go from 111 to 121 rooms, including en-suites and shared kitchens.
Currently men and women have to share run-down washing facilities in the 1970s-built block pictured on the right.
And in the nine-storey neighbouring block on The Broadway there will be 135 one and two-bedroom flats. This will help finance the cost of the new YMCA building.
There will also be two retail units on the ground floor and new public open space. The YMCA building also offer a gym, fitness studios and a cafe, for use by the wider community.
Developers Thornsett had originally proposed a 15-storey residential development but in the face of local opposition, including nearly 300 people turning up at a consultation event in 2019, it was reduced in height by six storeys.
The scheme was approved with a unanimous vote at a recent Merton Council planning committee, with a number of restrictions, including a ban on noisy work at the weekends while construction work is on-going.
Residents of the development will be unable to apply for on-street parking permits, but there will be four disabled parking spaces with electric charging points.
Local Councillor Paul Kohler (Lib-Dem) said afterwards: "Whilst many within the ward are supportive I know that others continue to have reservations and my role is to represent all my constituents (including the 100+ vulnerable adults currently housed, in less than ideal conditions, in the current YMCA).
"As I have said previously I think this latest nine-storey proposal is a vast improvement on the previous 24 and 15 storey plans, against which we campaigned, and shows the value of the community's input into planning decisions and why recent government moves to reduce it are a mistake.
"I consequently spoke in favour of the proposal but my support was, and is, conditional on the YMCA maintaining a constructive dialogue with the community during the demolition, construction and operation of the new facility and ensuing any issues that emerge are resolved swiftly.
"I am acutely aware that the largest burden of this development will fall on those living closest to the site, with whom I have worked to maintain a constructive dialogue with the YMCA. One of many potential issues will be the noise of demolition/construction which is why...the YMCA agreed to my request not to abandon a previous plan to do no noisy work at weekends.
"I think this shows what can be achieved by maintaining a constructive dialogue and hopefully augurs well for the future."
The YMCA St Paul's Group said afterwards the new YMCA building will give its residents a better quality of life and support them back into independent living.
They added in a statement on Twitter: "YMCA residents and the Wimbledon community will also benefit from new and improved, affordable facilities, including a gym, bigger studio space for fitness classes, a children's area and brand-new YMCA café.
"The adjoining development of 135 high-quality new homes will financially support the redevelopment of the YMCA and help to address the under-provision of homes suitable for first time buyers in the London Borough of Merton."
December 16, 2020