Innovative Y:Cube is in Wimbledon
Wimbledon residents took the chance to visit the red and black Y:Cube prototype outside YMCA Wimbledon on its first public open day.
The pre-fabricated prototype was transported from the factory in Derbyshire earlier this year and since being installed outside Tower Lodge (right), the Y:Cube project has received considerable national and international media attention.
This Thursday (April 3), however, Andy Redfearn, Director of Housing and Development at YMCA LSW, was pleased Wimbledon residents stopped by to look inside the prototype.
He said: "It was great seeing so many people stopping by in the Y:Cube and the general reaction is that they really like the design and that they are surprised about how big it actually is when you see it from the inside.
"We at YMCA LSW are genuinely interested in hearing local residents' viewpoints and will use the feedback we get from the public viewing in the further work with the project. We are also looking into scheduling another Open Day later this spring in the afternoon, to give even more people the opportunity to see it".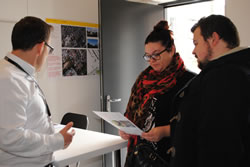 Among the local residents visiting the Y:Cube Open day was Wimbledon residents Kate and Shaun, a couple who are looking to move on from their shared accommodation to a place on their own. They said that they could definitely see themselves living in the Y:Cube.
Kate said: "It is a lot bigger than we thought it would be and I really like the open design. It's got everything really, you don't need anything bigger".
Planning application for the proposed Mitcham scheme consisting of 36 Y:Cube units on Clay Avenue was submitted earlier this week.
The planned scheme will be for single people who are former YMCA LSW residents and also offer homes to single people on the local council's waiting list The one-bedroom homes will be let at 65 per cent of the market rent, which currently in Merton is £140 a week.
April 4, 2014