ROOM Exposed showcases youth activities
YMCA London South West opened the doors to ROOM Exposed; a cultural event showcasing the youth work, arts and sports activities at the YMCA John Innes Youth Centre in Wimbledon.
The public was invited in to get a glimpse of what goes on at the youth centre and to have a look at the modern and multifunctional facilities which include a lounge, classrooms, music recording studio and a large sports hall.
The main part of the event however, was dedicated to celebrating and honouring the young people and the volunteers who attend the centre on a regular basis.
Gabriel Ward, aged 15, Nelson Okoyomo, 18, Liberty Jordan, 17, and Achuthan Thurailingham, 24, were honoured with the Jack Petchey Achievement Awards for their contribution to the youth centre.
Anna Harris, Head of Youth Work at YMCA London South West, said: "Room Exposed was a fantastic evening celebrating what has been achieved in the past year at John Innes through our team of dedicated young people, volunteers and staff. I for one am very proud of the work that has gone on in John Innes, which has affected so many local young people.
"The four Jack Petchey Award winners were voted for by their peers at the youth centre and receive this distinction because of their outstanding contribution to the arts, sports and music projects that go on at the centre".
Following the Jack Petchey Awards ceremony on July 8, Emily Savage, one of the young people who attends the Music Room youth project at the centre performed her own songs.
Finally, the audience were invited up on the stage to take part in a jam session (below) like the ones usually taking place at the centre in Kingston Road on Wednesdays between 4pm and 6pm.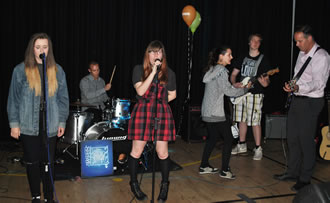 Richard James, CEO of YMCA London South West, joined in the jam session to play the bass. He said: "ROOM Exposed is a great opportunity for the young people that use our facilities at YMCA John Innes to showcase for their parents and friends what they do here, the skills they have developed and the bonds of friendship they have formed here.
"Combined, there is a huge amount of talent sitting within these walls, and we are proud to deliver a space for young people where they can come to learn new skills and also explore their creativity".
With many Merton youth clubs facing budget cuts from the next financial year, YMCA John Innes Youth Centre is looking into alternative means of funding the youth projects at the centre, including venue hire and a YMCA John Innes supporter scheme.
If you would like support the youth projects run from YMCA John Innes by volunteering, donating or fundraising, visit www.ymcalsw.org/ymca-john-innes or contact WitBabla@ymcalsw.org.
July 21, 2015