Supporters protest over controversial match
Football fans from around the world will be focussed on AFC Wimbledon's controversial FA Cup tie at Milton Keyes on Sunday (December 2).
The match kicks off at Stadium MK at 12.30, and will be screened live on ITV.

It is be the first time the clubs have met since MK Dons were created in 2004 - nine months after the original Wimbledon FC's controversial relocation to Milton Keynes in 2003 and its subsequent administration and renaming as AFC Wimbledon.
The millions watching the match on TV will no doubt see a banner plane which will fly overhead with a "We are Wimbledon" banner trailing behind it.
And lifelong Wimbledon fan Dave Hambly played his part in making a protest that the match is taking place.
From his home in Virginia, USA, he organised a team of fans to create some cardboard cut-out cows - poking fun at the famous concrete cows of Milton Keynes.
The cows were painted in Wimbledon team colours by artist Karen Ay and were taken on a trip to Milton Keynes station: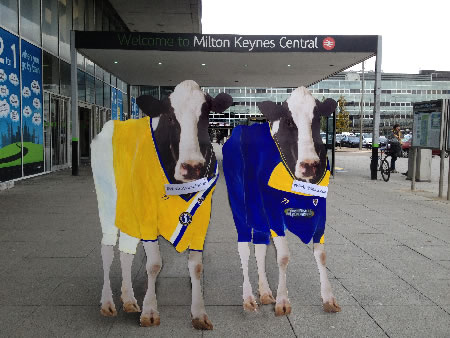 Dave said: "I was looking for creative and non violent ways of making a protest and a small group of us got together and created a couple of life-sized cardboard cows. They are painted with an AFCW kit as a tongue poke to the concrete cows in Milton Keynes and will be auctioned after the 'game' for charity. We hope it will bring a few smiles."
Wimbledon directors attending the match will sit with their fans, rather than the directors' box and many of those attending say they won't buy any food or drink from the stadium.
Meanwhile, hundreds of Wimbledon fans will watch the game at Kingsmeadow, with a series of events taking place, as part of a special "Blue and Yellow Day". They include a disco, half-time mascot obstable race, children's activities and various stalls. It starts at 11am and remain open to welcome back the coaches returning from the game.
And the club have teamed up with Betfair to offer supporters a chance of a refund if they do not wish to travel to the match.
Those supporters who have already purchased a ticket can reclaim their money back if they have a change of heart – and Betfair have also promised to donate funds to the Dons Trust.
Supporters who have purchased tickets and are still unsure about travelling to the game have now been given the option by Betfair to choose not to attend, while ensuring that Wimbledon still receive the ticket money.
For every ticket refunded, the online betting firm will go one step further and match the rebate with an identical donation to the Dons Trust.
A back-of-shirt sponsorship deal for the match also means that Betfair will contribute further funds to AFC Wimbledon.
To claim their refund, fans can hand in their match ticket along with completed form (available from the Cherry Red Records Ticket Office) to the Betfair Amnesty Box located in the Cherry Red Records Stadium Box Office before 3pm on Saturday (December 1).
AFC Wimbledon Manager Neil Ardley said: "Everyone connected to this great club knows what an emotive issue it is for us and our supporters. We're grateful to Betfair for taking some of the pressure of what will be a very tough decision. I'm sure our fans will do what's best for both themselves and the club."
The supporter refund is restricted to the first 250 fans only.
What do you think? Why not comment on our forum?

November 30, 2012