Area was evacuated after his death
A man was killed when he was struck by a train as it went through Wimbledon station last night (Thursday March 31).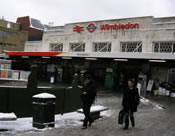 The station had to be evacuated after the incident, which took place at 7.22pm when he struck a train which was passing through the station.
There were long delays to South West Train services all night, with trains being delayed for more than an hour. Normal service was not resumed until the following morning.
The man's death was not thought to be suspicious.
April 1, 2011