Merton Memories website adds a special Wimbledon tennis section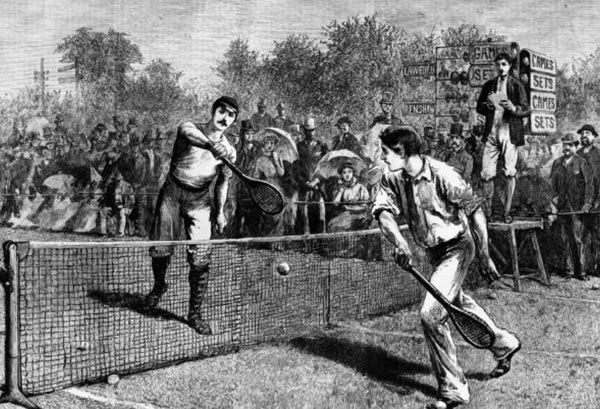 The 2020 Wimbledon tennis championships may have been cancelled but tennis fans and local history enthusiasts can still enjoy the spirit of Wimbledon.
Heritage staff at Merton Council have now added a Wimbledon Tennis page to the Merton Memories website, as the latest addition to a growing collection of lockdown resources.
The new page features online displays, puzzles, quizzes and reminiscence materials, including the sights and sounds of tennis from yesteryear.
The top picture shows William Renshaw (left) playing H F Lawford at the All England Lawn Tennis championships, 1881. Renshaw was ultimately victorious in this match for the Men's Singles title.
It gives an idea of the court layout at the original All England Club in Worple Road, Wimbledon. During the 1880s William and his twin brother, Ernest, won 13 Wimbledon titles, drawing huge crowds in a phenomenon known as the "Renshaw Rush."
The picture below shows the tournament in its more familiar location during the 1920s. To find out more, go to: https://photoarchive.merton.gov.uk/Tennis.
July 1, 2020