Claims that proposed new screens will block sightlines and impede pedestrians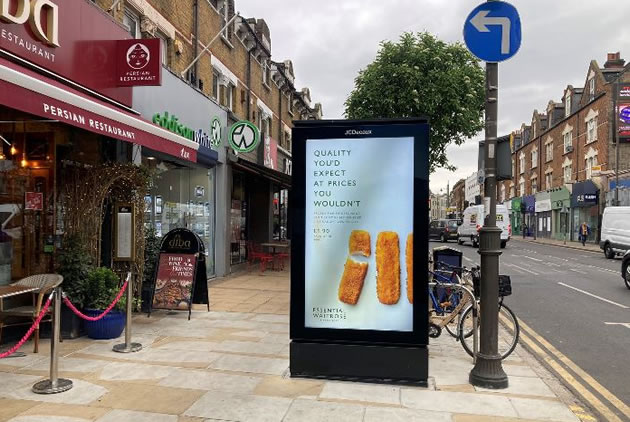 Advertising screen planned for The Broadway in Wimbledon. Pic from @HaydonsNorth
Plans for six new advertising screens in streets in and Wimbledon are being met by local opposition.
Critics of the scheme to set up more advertising screens in Merton say they block sightlines, impede pedestrians and distract drivers.
A series of separate planning applications have been submitted to Merton Council planners for permission to install the screens on roadsides in Wimbledon town centre (see picture above), South Wimbledon, Raynes Park, Colliers Wood and Mitcham.
The screens - called 'Street Hubs' - would be nearly 3m (10 feet) tall and 1.2m (4 feet) in width.
Applicant BT has submitted a document to the council explaining that each hub is installed at no cost to the council. They offer fast wi-fi connections for those who register via e-mail.
The council would get the use of 5% of screentime to enable them to publicise council services, as well as information such as weather and local maps.
Each hub can house monitoring for noise and traffic pollution. They also offer free UK phone calls and a 999 emergency button.
More than 400 have been installed around the UK, with some drawing attention to local drug issues through the misuse of the free phone call facility.
BT says they have worked with police and councils around the UK to help them develop a "proprietary algorithm and technical process" to automatically recognise possible misuse and block identified numbers.
But @sandra4mitcham said on Twitter: "They block sightlines, take up valuable pavement space, and distract drivers and cyclists. They have no place in the streetscape. @Merton_Council will get a new planning committee after the elections and these should all be called to it and rejected."
@HaydonsNorth said: "Not sure how these behemoth pavement blockers contribute to #HealthyStreets and #ActiveTravel tbh."
@savewimbledon added: "They're an impediment to walking and obscure vision. All policies on healthy streets can't be fulfilled with all this pavement furniture!"
@GrumpyoldGould claimed the existing hub pictured above on The Broadway makes a noisy hum that could disturb residents.
The plans are not yet listed for a future planning committee, but the next meetings take place on June 16 and July 14.
May 8, 2022