Community Artist To Transform Graffiti-Hit Wall By Wimbledon Station
---
Funding made available for three local schemes to boost station access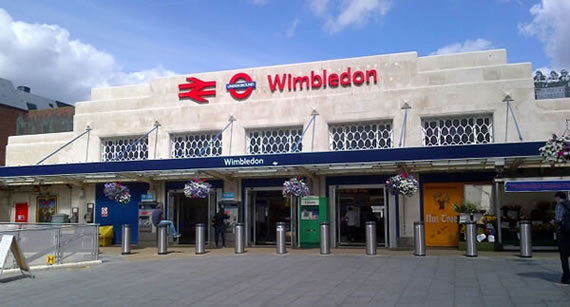 Two projects to improve access to Wimbledon station – including a scheme to employ a community artist to create a piece of artwork over a wall covered in graffiti - and another to transform a vehicle-free route across Wimbledon Common are receiving funds from South Western Railway (SWR).
The train operator's community improvement fund is giving £60,000 to a Wimbledon and Putney Commons Conservators' project to transform the Beverley Brook cycleway - a kilometre section of vehicle-free cycle/pedestrian route across Wimbledon Common.
This section of the route, which connects Wimbledon to Kingston Vale, Roehampton and Putney, is currently a mud track, uneven and difficult to cycle, it becomes impassable in winter.
A Love Wimbledon anti-graffiti scheme will also receive £20,000 to transform a highly visible section of wall adjacent to the railway west of Wimbledon station, which is consistently being targeted by graffiti artists, often with offensive and graphic tags and messages.
The project proposes securing a community artist to paint the wall with an inspiring piece of artwork, providing public art that the local community can identify with thus improving the welcome to Wimbledon view for visitors whilst also reducing anti social activity.
And Wimbledon Guild will receive £30,000 to enhance its existing work with a programme that maintain and develops confidence in using public transport enabling people to approach travelling by train or bus with a better awareness and understanding.
SWR says in total 67 projects successfully won funding as part of the scheme, and with match funding a requirement of applying for the SWR Customer and Communities Improvement Fund, over £5 million is now set to benefit local community projects.

SWR Commercial and Business Development Director Peter Williams said: "We at SWR recognise only too well the vital role that rail plays in the local as well as the national economy, and I am delighted that we have been able to further support the communities we serve through this funding.

"The first year's recipients cover a wide range of, and in many cases innovative, projects, and I look forward to them all coming to fruition."

The winning proposals were selected by a panel of representatives from SWR's Social and Commercial Development Board, Transport Focus and SWR's Board, before final approval by the Department for Transport (DfT).
September 3, 2020