On Clean Air Day, local campaigner believes limits are still being broken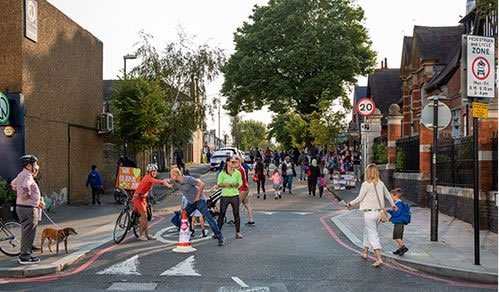 A new School Street in Merton
As the UK marks Clean Air Day today (October 8), latest traffic pollution figures show that the air around three Wimbledon schools breaches the Government's air quality objectives.
Nitrogen levels outside Wimbledon High School at the bottom of Wimbledon Hill Road reached 56gm-3, while the Government objective is a maximum of 40g m-3.
The levels were also breached at All Saints C of E Primary in Haydons Road (46gm-3) and Wimbledon Common Prep on the Ridgway in Wimbledon Village (42gm-3.)
Elsewhere in Merton, three of the five most polluted points were in SW19, according to the report, which gives the average figures for the whole of 2019. They were:
Wimbledon Hill, 64.7 gm-3

Merton Road, South Wimbledon, 63.5gm-3

High Street Colliers Wood, 60.3gm-3.
Local eco campaigner Daniella Tilbrook measured the levels outside Merton Civic Centre today, and claimed they exceeded the limits.
She said: "Today is clean air day. The levels of NO2 in Morden were high (illegal) at 12.45pm this afternoon. Please, Merton Council it is time to clean up our dirty air. Imagine how bad it is in rush hour."
She has been at the forefront of the campaign for the introduction of school streets in the borough – giving restricted access to vehicles at school drop off and pick-up times
Since the start of the current school year, Merton Council has introduced 26 'school streets' across the borough – including one affecting All Saint's Primary.
Although they are already in place, with traffic typically banned for one hour and 15 minutes in the morning and the same in the afternoon, there is a consultation process running now on each of the 26 school streets. The council wants to fully implement them within 18 months.
Access will be made for local residents, business and teachers, but only if they have registered for exemption and meet the criteria. Exemptions will also be made for blue badge holders and emergency vehicles.
Last year it implemented permanent school streets outside Links Primary School in Wimbledon, St Thomas of Canterbury Catholic Primary in Mitcham and the Harris Academy in Mitcham.
TfL has yet to give approval to a school street running outside Singlegate Primary School in Colliers Wood, which is Daniella Tilbrook's local school.
Merton has also installed more than 200 anti-idling signs at schools, level crossings and taxi ranks, with 50% of schools now being covered. The roll out of signage to all remaining schools is on hold until the findings of a project into its effects are published in March 2021.
In July 2019, Merton Council declared a Climate Emergency and since then the Council has developed a Strategy and Action Plan that it says will deliver net zero greenhouse gas emissions for the Council by 2030, and the borough by 2050.
Since 2019, Merton has had more 70 different measures and projects to improve local air quality. It has already introduced a levy on the cost of parking permits for diesel car users.
It concluded in its 2020 Annual Status Report on ait quality: "The overall monitoring results for the Borough show that NO2 concentrations exceeded the UK annual mean objective (as it has done for each year since 2005), and improvements are still required.
"As the greatest exceedences occur in town centres and along arterial routes…other transport related measures such as lobbying TfL for cleaner buses quicker, the diesel levy and encouraging behaviour change of drivers towards more sustainable and lower emission vehicles is key in tackling air pollution."
October 8, 2020