Waste piles up as refuse company fails to turn up for regular collections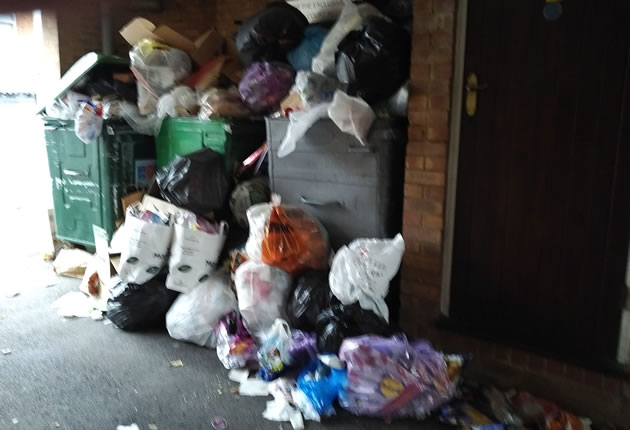 Residents in many Wimbledon flats were left with nowhere to put their Christmas rubbish after their bins were left unemptied in advance of the festive period.
The growing piles of rubbish only built up further as others frustrated by the lack of local collections added to them.
Refuse company Veolia are supposed to collect from Sinclair Court in Kingston Road on Mondays (recycling) and Thursdays (general waste), but hadn't attended the site in at least two weeks.
The picture above was taken at the block on Christmas Day, and it was a similar picture with the communal bins in nearby Hartfield Road (below).
Sinclair Court residents reported the issue to Merton Council and Veolia UK on December 22 and, despite Merton Council asking Veolia to look into it, the problem was still apparent on Christmas Day. It was finally collected on December 27.
Matt Fergusson said on Twitter: "Not sure if there have been problems in the area? Communal bins on Hartfield Road also look very similar and definitely haven't been collected in a few weeks!"
Mark Gale also tweeted: "Don't expect any Christmas miracles". Julie Gould added: "Absolutely appalling service".
Elsewhere in Merton, Kate Neilan has been issued with a Fixed Penalty Notice for "unauthorised household waste", which she says was actually rubbish that Veolia has failed to collect.
Kate said Veolia have failed to collect recycled waste from the communal bins where she lives in Figges Marsh on several occasions.
Despite making a formal complaint to Merton about the problem in October, she said the communal recycling was not collected on December 4. It was collected a few days after the problem was reported.
But on New Year's Day, she was issued with a Fixed Penalty Notice for fly-tipping. She said: "How many times have we had to complain to @Merton_Council about not collecting rubbish from our block of flats? I'm assuming this FPN is because our rubbish - including something with my name - was not collected yet again.
"I am vibrating with anger. I've challenged the penalty notice and have also written to my MP about it. Given all the energy @robchilver and I have put into trying to get @Merton_Council and @VeoliaUK to collect our rubbish at all, this is a real slap in the face."

Merton Deputy Leader and Abbey ward Councillor Eleanor Stringer has been approached for a comment. She tweeted the following on December 22: "Thankfully in Merton this year, your festive bin days are the same as the rest of the year! Rejoice! So your only problem will be remembering what day of the week it is, which is hard when you're consuming sherry and chocolate every day..."
Merton Council has also been asked for a comment.
Lib Dem Councillor Anthony Fairclough, who represents neighbouring Dundonald Ward, said: "A number of people have raised problems with collections from flats recently. I've also noticed that public litter bins have not been being emptied either. When I speak with the Council they escalate specific missed collections - but the issue seems wider.
"I've asked the officers in charge of ensuring the Council's contractor does what it's supposed to, if they are aware of the issues - and what exactly they're doing about them.
"At a guess, the contractor may be having staffing issues owing to Covid. But the company makes large profits from Council taxpayers' money - if there are issues, they should be open about them and arrangements should be put in place."
January 3, 2022