Rugby result: Wimbledon 16 v Guernsey 22
London & SE Premier League, 7 December

Well it had to happen some time…Wimbledon's excellent unbeaten run was ended on Saturday by a very good Guernsey side – certainly the best team Dons have played this season. But as the score indicates, there was very little between the teams, the difference being that Guernsey were better able than Wimbledon to convert the few scoring opportunities they created into tries.
It was clear within ten minutes of the start that the real battle would be between two first-rate defences and that one missed tackle could determine the end result. For the first 20 minutes the teams took it in turns to mount waves of attack on their opposition's goal line, then the visitors nearly broke the deadlock with a break down the left wing only for Dons' Ollie Kitto to pull off a try-saving tackle. Minutes later, flanker Kain Rix – one of many who tackled their hearts out throughout the match - ripped the ball from a Guernsey lock, sprinted up the touchline, kicked ahead as he was finally tackled and centre Paul Hendry outpaced the defence to score.
The loss through injury of tight head prop and captain Josh Bayford didn't help Wimbledon's cause any and following a penalty which took the visitors deep into Dons' 22 a series of strong pick and drives ended with lock Merrion touching down to level the scores. Wimbledon then looked to have gone ahead through a good-looking try by Rix, only for the referee to mysteriously disallow it. But fullback James Moffat did give them the lead with five minutes of the half remaining with a well-struck penalty. Guernsey, however, had the last say as scrum half O'Connor was on hand to take a scoring pass from his centre and no.10 Andresen had no trouble converting to put Guernsey 8-12 ahead at the break.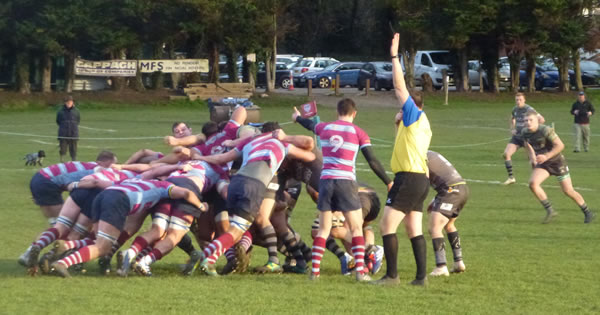 Almost from the re-start Dons simply ran out of defenders following a nice break from a scrum by O'Connor and Guernsey's big wing, Armstrong, was put clear to score in the corner and extend their lead to 8-17.
A huge hit by Dons' new wing Luca Rizzo won possession from the kick-off and set in motion a series of attacks that were well defended by Guernsey, eventually enabling them to clear their lines. But a brilliant run by Kitto from his own 22, dummying and outpacing Guernsey's defence, then perfectly timing his pass to Rizzo saw the wing race in at the corner, narrowing the deficit to 13-17. Moffat's conversion attempt unluckily hit the post.
Entering the final quarter another break by Guernsey's no.9 put his pack deep into Dons' 22 and after a series of drives went over for their fourth try, putting them two scores ahead at 13-22. Then, after a frantic end-to-end 15 minutes, a Moffat penalty put Wimbledon back to within 6 points. Although they managed to keep possession for most of the final five minutes, despite one or two marginal refereeing decisions, try as they might they were unable to break out of their own 22 until the very last move of the game when Guernsey won a penalty, kicked to touch, and it was all over.
Still league leaders, but now by just two points, Wimbledon travel away next to Tunbridge Wells.
December 20, 2019