Third Gas Pipe Project Set To Delay Wimbledon Motorists
---
Public drop-in session to find out more about latest scheme
A third major pipeline project is causing road delays around the Wimbledon area, with a six-week scheme now taking place in Wimbledon Park.
This is in addition to two major pipeline projects which are already giving grief to local drivers.

There is a public drop-in session tomorrow to find out more about the latest scheme, which is part of work to upgrade the gas network in the Wimbledon Park Road area of Wimbledon.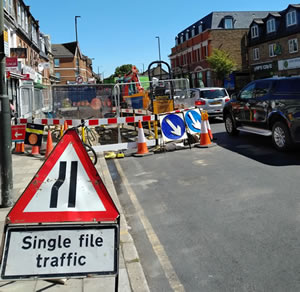 This SGN work, which started at the end of August, involves the replacement of old metal gas mains with new plastic pipe to ensure a continued safe and reliable supply of gas into the future.
SGN have
organised a drop-in session at Olive Garden, 42 Replingham Road, Southfields, SW18 5LR on Tuesday (September 4) between 9am and 11am.
Members of the project team will be on hand to answer questions and talk through our plans in more detail. Maps and plans of our work will also be on display. You are welcome to attend at any time.
If you have any specific enquiries, call 01689 881564 between 8am and 4pm Monday to Friday or contact our Customer Service team anytime on 0800 912 1700.
Below is a list of other roadworks in the SW19 area which are likely to cause some local delays - including Grand Drive down to one lane until December:

A219 The Broadway, London, Merton
03 September — 06 September
Delays likely

Traffic control (Stop/Go boards)
Works location:

Unknown
Works description:

22/118 tel0193059 - slot cut c/w sensor loops to repair traffic signals SD0 plus feed to existing chamber (f/w 2m new duct and underkerb) 10.00-15.00, westbound c/w lane 1 and f/w to chamber (ped access maintained)
Responsibility for works:

Transport for London
Current status:

Planned work about to start
Works reference:

YG516S000000004106
The Causeway, Wimbledon, London, Merton
03 September — 04 September
Delays likely

Road closure
Works location:

Unknown
Works description:

To carry out surfacing works
Responsibility for works:

Merton
Current status:

Planned work about to start
Works reference:

HC011314623
The Causeway, Wimbledon, London, Merton
03 September — 04 September
Delays likely

Road closure
Works location:

Unknown
Works description:

To carry out surfacing works
Responsibility for works:

Merton
Current status:

Advanced planning
Works reference:

HC011314393
Haynt Walk, Raynes Park
25 August — 10 September
Delays likely Road closure
Works description: Network Operations Distribution:Installation of new Low Voltage electricity cables to ensure safe and reliable power supplies:Install 2 X LV cables accross Haynt Walk. Road to be closed on saturday 25th and reinstated by Sunday 26th to re open Road
Responsibility for works: UK POWER NETWORKS EASTERN & LONDON
Current status: Planned work about to start
Works reference: EC40010721328
B279 Grand Drive, Raynes Park
23 July — 10 December
Delays likely Lane closure
Works description: LAY 120M OF 75MM PE, 225M OF 90MM PE, 520M OF 125MM PE, 500M OF 180MM PE, ABANDON 205M OF 4" CI, 770M OF 6" CI, 485M OF 8" CI, TRANSFER 66 SERVICES, MAKE 29 MAINS CONNECTIONS AND COMPLETE ALL REINSTATEMENT
Responsibility for works: SGN
Current status: Planned work about to start
Works reference: XW053W114894639-02916
06 August — 15 September
Delays likely Road closure
Works description: To carry out works on speed table at the junction
Responsibility for works: Merton
Current status: Advanced planning
Works reference: HC011306208
06 August — 15 September
Delays likely Road closure
Works description: To carry out works on speed table at the junction
Responsibility for works: Merton
Current status: Advanced planning
Works reference: HC011306316
06 August — 15 September
Delays likely Road closure
Works description: To carry out works on speed table at the junction
Responsibility for works: Merton
Current status: Planned work about to start
Works reference: HC011306360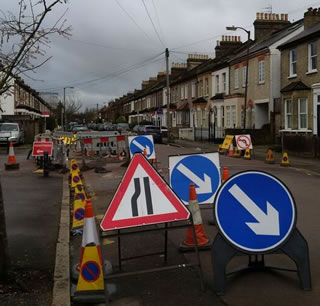 September 3, 2018