Free events in 24 unexpected places during December
Wimbledon will be the home for London's first live events advent calendar, with 24 free events promised in 24 unexpected places, from December 1 – 24.
Every day a different door will open in locations scattered across the town, which could range from an underground car park, an empty shop, a cinema, a library, a school - each unveiling what promises to be a unique experience.
Perhaps people will lose themselves in a magical forest in an unexpected place, become part of an interactive show, race against time to help Father Christmas, or simply relax and let a live jazz band provide the soundtrack to their night.
Each day a door will open; at 4pm for a family event, or 7pm for an older audience. And it's free to attend on a first come, first served basis.
It's being produced by Wimbledon-based Bobblehat, which has a team predominantly made up of Wimbledon residents who were born and brought up in the local area, and is sponsored by Love Wimbledon.
Forthcoming events include:
4pm on Friday (December 22) at Wimbledon Leisure Centre in Latimer Road. Hint: Pop your dancing shoes on and step back to the 1920's as our twins teach you some swingin' steps. Flapper dresses and top hats optional (but encouraged)! Capacity: 75. Tip: Bring shoes suitable for dancing. Duration: 1 hour
7pm on Saturday (December 23) at Trinity United Reform Church in Mansel Road. Hint: Brought up in Wimbledon but recognised clover the world, an Award Winning Soprano joins forces with a Musical Director and Producer for an evening of songs from musicals and light operas with more sequins than you could shake a tree full of tinsel at. Capacity: 200. Duration: 1 hour (approx).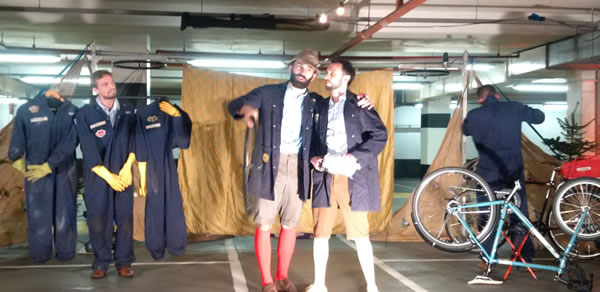 Pictured above are the Handlebards, who performed A Midsummer Night's Dream in the car park of the Centre Court car park shopping centre when the first 'window' of the live advent calendar opened on Friday December 1.
December 22, 2017