Greensleeves Morris Men Go Online For Christmas Mummers Play
---
New leader says they are looking forward to performing in public when able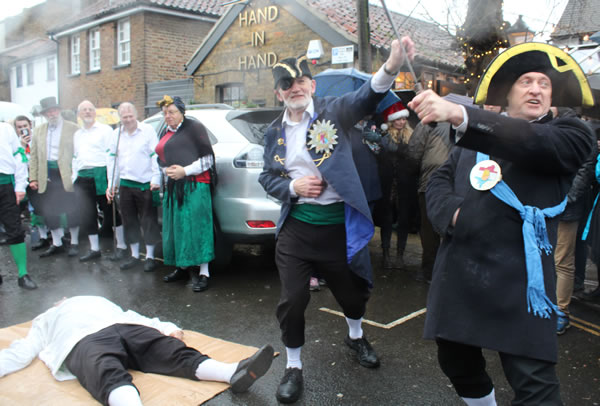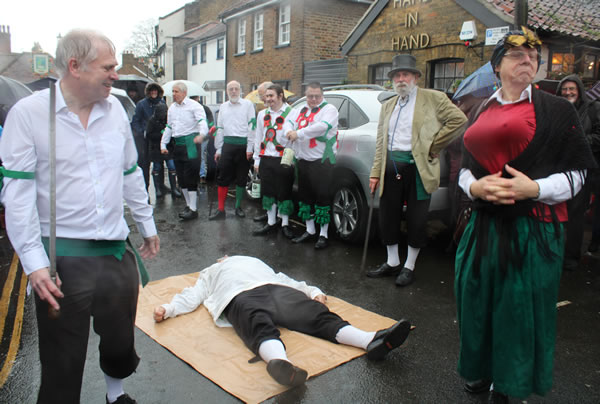 Greensleeves Morris Men are in good shape and looking forward to performing in public again once the Covid crisis ends, says Neil Barrett, the newly elected leader (known as a squire) of Wimbledon's own Morris side.

"It is a great privilege to lead Greensleeves Morris Men," Barrett commented after being confirmed as new squire at the club's annual general meeting.

"We are the longest established Morris club in London and a founder member of the Morris Ring.

"We want to carry on our dancing tradition and go out again to share our dances with the public."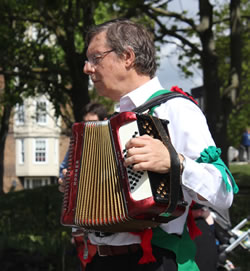 Long time Wimbledon resident Barrett (pictured left), who originally joined Greensleeves in 1976, is one of the club's most experienced dancers and an accomplished musician who plays piano accordion to accompany the club's performances,

To ensure Greensleeves are ready to perform when Covid restrictions eventually are lifted, Barrett is leading virtual practice dance sessions during the London lockdown.

"We hope to resume our face to face practice sessions early in the New Year and to begin public performances again when the situation improves," Barrett said.

"We know our favourite public house dance spots are suffering during lockdown, so we want to get out and support them."

For the past 25 years Greensleeves' Christmas programme has been one of the highlights of the club's annual calendar.

The Morris Mens' Boxing Day performances of traditional mummers plays outside public houses in Wimbledon village regularly attract hundreds of spectators.

As Wimbledon's pubs are now closed for London's tier four lockdown, Greensleeves are putting a video recording of this year's mummers play on the club's website for everyone to watch.

"We have put our mummers play together virtually this year to replace our normal Boxing Day public performances in Wimbledon Village," Barrett said.

"People can watch our highly entertaining mummers play by visiting our website at www.greensleevesmorris.org.uk."

Founded in 1926, Greensleeves is London's longest established Morris dancing club and has been based in Wimbledon for the past 34 years.

The Morris Men performs a wide collection of Cotswold handkerchief and stick dances, along with long sword dances that originate in the northeast of England.

During normal times Greensleeves meet for practice sessions every Friday from 8pm to 10pm at South Wimbledon community centre where beginners are welcome.

Practice sessions currently are suspended due to the Covid crisis. However, inquiries can be addressed to the club secretary (known as a Bagman) Freddy Dunstan on Mob: 07835753935 or email dunstanfj@gmail.com.
December 19, 2020