We visit Wimbledon's Gooseberry Bush Centre
The family is very much at the forefront of an upcoming Wimbledon business - the Gooseberry Bush Centre in Kingston Road.
For not only is it a family-run venture, but it offers a child-friendly cafe and a host of therapy sessions focused on childbirth and parenting.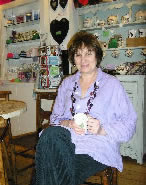 Owner Angela Yates (left in the cafe and right in the studio) came up with the concept after working as a teacher with the National Childbirth Trust (NCT) for 20 years.
She said: "I got the idea partly because, as an NCT teacher, I used to teach in venues all over Wimbledon - it could be a school, or a church hall. I did a PGCE and there was a lot about the learning environment and how much people get from the area they are in.
"Then I thought it would be wonderful to have a combination business where there is a really lovely teaching and therapy space, as well as space for people to feel comfortable with children."
Angela, a mother-of-two from Southfields, opened the centre last June. It has a downstairs cafe, complete with buggy park outside, and upstairs are the therapy/studio rooms. The cafe also sells a range of gifts - mainly British-made - where Angela's husband Rupert is involved.
She said: "I opened at the worst time because of the school holidays when everyone went away, but the cafe has been picking up and the studio is doing well. It's pretty fully booked and not everything is directed at families.
"It's been hard work, but it is very rewarding - particularly when you get people coming back and when people say 'thank you'."
As part of Acupunture Awareness Week (February 27-March 4), one of the centre's therapists, Sally Kean-Hammerson, is offering a free talk and introductory consultations on Saturday March 3.

Call Sally on 07956 367003 for further information.
February 27, 2012