The Get Set, Get Active Fund awards its annual grants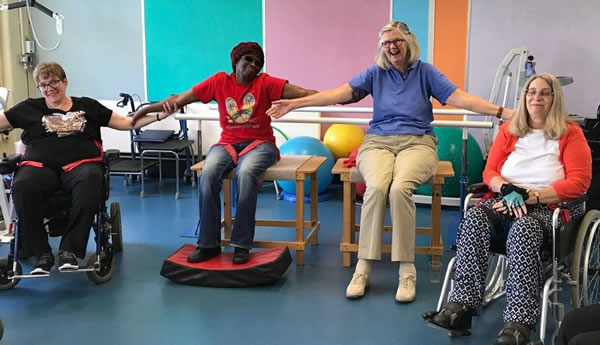 The Wimbledon Foundation has awarded grants totalling more than £50,000 to help local residents to be more physically active.
The Get Set, Get Active Fund, launched by the Wimbledon Foundation in 2016, aims to help local people of all ages and abilities to take part in physical or sports activities.
Grants are awarded to local projects designed to not only improve people's physical wellbeing but also to aid their mental wellbeing by learning a new skill, meeting new people and in turn making communities stronger.
Grants have recently been awarded to 26 local groups and clubs active in Merton and Wandsworth covering a varied range of pursuits from skateboarding sessions for young people to golf sessions for the over-60s.
Helen Parker, Head of the Wimbledon Foundation, the charity of The All England Lawn Tennis Club and The Championships, said: "One of the Wimbledon Foundation's key goals is to support healthy and active lives.
"Sport not only improves people's physical wellbeing, it can help improve people's mental wellbeing through learning a new skill or making new friends. Through our Get Set, Get Active Fund we want to support the fantastic work being done by local groups and clubs to help improve people's lives in our local community."
The Wimbledon Foundation also encouraged applications from organisations tackling social problems and helping people facing disadvantages to improve their quality of life.
Universal Language are using their grant to run football sessions for newly arrived young immigrants and refugees while Wimbledon Racquets & Fitness Club are purchasing badminton rackets and adapted equipment to enable disabled people to take part in racket sports.
The Multiple Sclerosis Society's Merton Group will use their grant to provide Zumba sessions and specialist physiotherapist-led exercise sessions for those with MS.
Dr Alice Thacker, MS Merton Group Coordinator said, "Thanks to this grant from the Wimbledon Foundation, people with MS with all degrees of disability will be moving to that Latin, classical and pop beats helping to improve their overall fitness and vital cardiovascular function."
The MS Society's Merton Group is pictured above taking part in physiotherapist-led exercise sessions.

Grants of £10,000 have also been awarded by the Wimbledon Foundation to Merton Schools Sports Partnership (MSSP) and Enable Leisure & Culture which works in Wandsworth secondary schools.
MSSP will use the funding to help improve primary school pupils' swimming abilities while Enable Leisure & Culture will be introducing Zumba, Pilates and yoga sessions to encourage female pupils to improve their fitness levels.
July 31, 2019