Scheme would have involved demolition of Edwardian property
Plans to demolish an Edwardian property on Wimbledon Hill Road to replace it with another house and a five-storey block of flats have been turned down by councillors.
Developers applied to Merton Council to demolish the 1930s property at 81-83 Wimbledon Hill Road and build a block containing 17 apartments as well as a detached three-bedroom home (see image above).
Earlier this month the council's planning committee heard that an initial scheme had 29 letters of objection, including comments on the block's design and height, as well as the impact on traffic and loss of green space.
The developer had applied for 18 flats and three mews houses, but the latest application was amended to ask for approval for 17 flats and one detached property to be built by October 2024. A report to the planning committee said the updated proposals had received a further 14 objections.
The Wimbledon Society sent in one of the letters of objection. Chris Goodair, Chair of the society's Planning and Environment Committee, said its principal concerns were loss of trees, over-development, lack of light to some of the properties, no provision for refuse and recycling and the lack of affordable housing.
He added: "There should be an assessment of the geological situation, given that the site is on a hill and the possibility of rotational failure needs to be assessed, as well as any effect on ground water."
The Society also claimed that the building was one of the last Edwardian homes still in existence on Wimbledon Hill Road.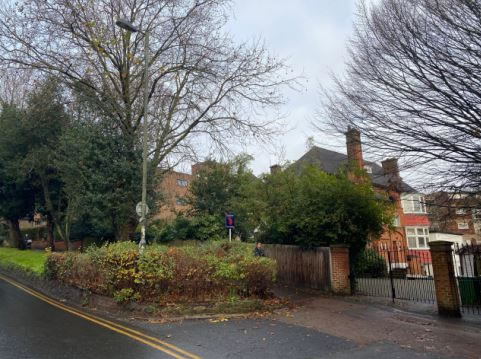 The current entrance to 81-83 Wimbledon Hill Road
But a report prepared by the developers said the current building was split into flats and is not a "distinguised example of its period". Bearing in mind the need for more housing in Wimbledon, they argued the building was suitable for replacement with a more "contemporary" development.
Council planning officer David Gardener had recommended the scheme be approved, subject to a section 106 agreement.
He told councillors in his report: "The proposal would result in a net increase of 13 self-contained residential units, which would help contribute to the council's housing target of providing 500 – 600 residential units in Wimbledon for the period 2011 – 2026."
Although the minutes of the council meeting which discussed the scheme on January 17 have not yet been published, the Wimbledon Society has said that councillors unanimously refused to give it the go-ahead.
January 29, 2023