A taster session in the art of fencing
I've always thought you're never too old to take up something new, so I jumped at Wimbledon Fencing Club's offer to have a go at the noble sport.
The club's been running since 1951 and its regular sessions are held at the Merici Sports Centre, part of Ursuline High School, on The Downs in Wimbledon.
It caters for fencers at all levels, from those competing at international and national level, to complete beginners who've never held a foil, epee or sabre (the three types of weapons) before.
Obviously I fell into the latter category, so it was with some slight trepidation that I arrived at the club to meet captain Mark Richardson. He swiftly kitted me out with the necessary equipment - a glove, plastron (inside chest protector), jacket, mask and a foil.
But before getting to grips with the exciting part of the session - donning the mask and lunging with my foil - it was time do some warm-up stretching before learning a bit of footwork.
I quickly discovered that you have to be nimble on your feet to be any sort of fencer. I had to maintain my concentration levels as I co-ordinated feet, legs, arms and body - and I hadn't even picked up a weapon yet.
After a bit of safety instruction about how to handle and hold the blade, I got the mask on and I was ready to go. I soon discovered that it's quite a high energy sport, as a bout is intensive and can be over quite quickly. But you can't let your guard drop for a split second to take a breather, or else your opponent will attack.
I fenced with a foil against Mark and, having a competitive streak in me, it was surprisingly fulfilling to score a point against him. The first to 5 points (Mark, of course) was the winner. I was relieved to get my mask off for a welcome breather and gulp of water.
By now the room was filled with fellow fencers of all ages. Wimbledon Fencing Club welcomes juniors from the age of 10 and has regular fencers aged in their 70s. There were more men than women, but I was by no means in a tiny minority.
It was then time for me to join in a footwork session with the other fencers (see above). There's clearly a lot of practicising needed in fencing, with participants encouraged to keep on their toes at home.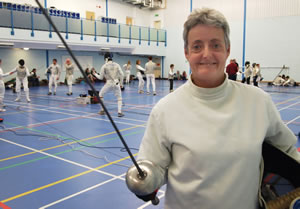 Then it was time to fence again, and I had just enough energy left to take on another fencer. While there are regular competitions at Wimbledon Fencing Club, sometimes it's just a case of asking a fellow fencer for a friendly match. The club also takes part in competitions against other fencing clubs and there are electric scoring boxes set up for experienced fencers.
If you want to give fencing a go, you'll get a warm welcome at Wimbledon Fencing Club. It won't cost you much to get started, and I guarantee it'll help you keep fit. Thankfully I wasn't too achy the following morning, but I certainly knew that I'd stretched some under-used muscles!
There are beginners' courses starting at the club from October 7, and a special taster session on September 23. If you find that you take to it, you will have to buy your own equipment to become a regular. But you can get relatively inexpensive fencing kit from £200. Perhaps a gift from Santa could be on the way if you complete the beginners' course and want to carry on?
To get in touch with Wimbledon Fencing Club, go to their contact page.
By Sue Choularton (pictured above with, and without, mask)
June 11, 2015