Owner has run out of funds after long-term closure due to pandemic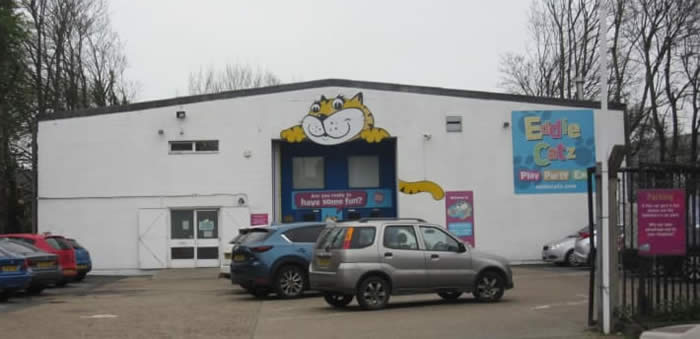 The Wimbledon Eddie Catz softplay centre for children has announced that it is not re-opening after closure for the Covid-19 pandemic.
The centre (pictured above) in Station Road, near the Savacentre roundabout, off Merantun Way, has been closed for more than four months. It announced earlier this week that it would not be re-opening and its Earlsfield branch would also remain shut.
A statement on the Eddie Catz website said with no scheduled date for softplay centres to re-open, and furlough schemes coming to an end, there were not enough funds to keep the business going.
Plans for a housing and commercial development have been put together for the site, which is close to a five-storey flats scheme that has just been approved. A pre-application made to Merton planners earlier this year for a development rising up to 15 storeys was given a red verdict by the council in May.
The statement said: "Despite our best efforts it is with a very heavy heart that we tell you we cannot re-open Eddie Catz Wimbledon and Earlsfield.
"The meagre grants we have received are simply not enough to mitigate the on-going costs of running the company over our 150 days of closure, let alone the investment needed to re-open in accordance with the stringent new guidelines.
"Eddie Catz has been part of the SW London community since 2005 and has welcomed over a million children and families across our venues.
"As a small business owner having dedicated the last 15 years of my life to developing Eddie Catz into a national softplay chain the decision not to re-open has been incredibly hard and heart-breaking.
"As you may know from media coverage, there is no scheduled opening date for our industry to reopen as a result of COVID-19. This has been a devastating blow to all indoor softplay operators nationally and the industry is on the verge of collapse.
"The small grants we have received are simply not enough to mitigate the ongoing costs of running the company let alone the investment needed to re-open in accordance with guidelines.
"With furlough coming to an end, no insurance pay outs and mounting non-negotiable costs, the funds we have are simply not sufficient to keep going any longer.
"As you can imagine this is a difficult time for our Team and their families as well as our independent partners who work with and have supported Eddie Catz for many years.
"We would like to thank all of our customers big and small, for putting smiles on our faces, celebrating birthdays with us, dancing with Eddie and making our jobs so much fun!"
August 18, 2020