Opponents say it limits local access to green space for daily exercising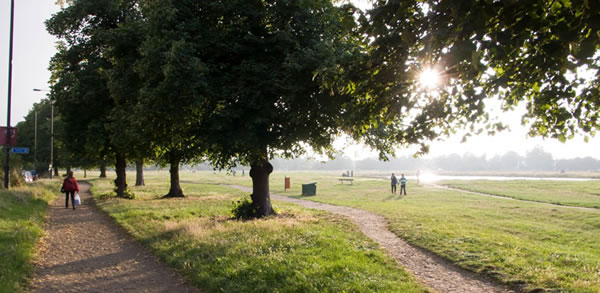 Parking restrictions imposed by Merton Council on roads around Wimbledon Common during the current pandemic have faced angry criticism.
The council has suspended pay and display parking bays around the Common until April 30. Separately, the car parks managed by the Wimbledon and Putney Commons Conservators have also closed down, leaving drivers unable to park near the Common during the day.
The move, aimed at stopping groups congregating on the Common, has been criticised by residents unable to maintain social distancing while exercising close to their homes.
The council says it has left pay and display parking available at Haydons Road Rec, Tamworth Farm Rec, Abbey Rec and Wimbledon Park (Revelstoke Road).
It said earlier this month: "We've taken the difficult decision to suspend pay and display parking bays around Wimbledon Common (except for key workers) from Friday April 10 to at least April 30. At the same time, we've also closed some of our car parks located in parks.
"Unfortunately this decision has been taken due to the very high amount of visitors to the common and parks last weekend, which led to some social distancing issues and groups congregating."
But the Wimbledon and Putney Conservators have said they do not support the measure and are concerned it will severely impact the ability for local residents, particularly those with limited mobility, to access Wimbledon Common.
"This is of particular importance given that we did have to take the very difficult decision to close our public car parks as we could not meet the social distancing requirements that are so important if we are as a nation are to limit the transmission of this virus," they said in a statement.
"Our decision was based on the understanding that on-street parking would still be available for those who required parking facilities to access Wimbledon Common.
"We maintain that allowing parking for key workers can be done without removing the ability of other members of the public to access on-street bays.
"The critical role served by open spaces such as Wimbledon and Putney Commons during the pandemic has been widely recognised. Keeping this unique resource accessible is therefore of vital importance. The Conservators have therefore written to Merton Council with a request to reconsider these restrictions as soon as possible."
Wimbledon's Conservative MP Stephen Hammond said he has asked Merton Council to review its decision. "Many people have expressed their anger at this over-reaction, meaning they now have to exercise in less safe places," he said.
Merton Lib Dems have also asked the council to think again, stating it shares concerns that the restrictions limit people's access to green space for their daily exercise.
April 24, 2020