Warm weather and lack of rain has made fires more likely
Firefighters were called to put out a blaze along Memorial Ride on Wimbledon Common, which had quickly spread to a wide area.
Although they bought the fire under control on Saturday April 8, an oak tree had to be felled and a large area of grassland was damaged (see picture below).
The Commons' conservators warned the recent spell of warm weather and lack of rain has meant the grassland has dried out quickly and can easily catch light. It's the reason they do not allow BBQs anywhere on the Commons.
As well as leaving a scar on the grassland, a fire can potentially affect wildlife. As well as nesting birds and insects, there are known to be lizards in the area of the recent fire.
They ask smokers to make sure any discarded cigarettes are completely out. If you do see smoke or suspect a danger of fire, call the Ranger's Office on 020 8788 7655.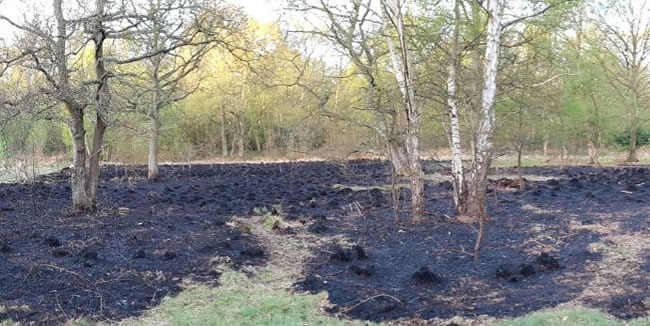 What do you think? Why not comment on our forum?

April 15, 2017