And take a personal photo-tour in our New Year competition
Direct from six sold-out seasons in London's Hyde Park Winter Wonderland, and from three packed-out theatre tours, Britain's favourite contemporary thrill circus is setting out once again to amaze and entertain the nation at theatre venues.
And Cirque Berserk is coming to Wimbledon!
Combining contemporary "cirque" style skills with off-the-scale thrilling stunt action, Cirque Berserk is a danger-filled spectacle that will amaze all ages, from seven-year-olds to their grandparents.

Cirque Berserk will be at the New Wimbledon Theatre from Thursday February 16-Sunday February 19. Times and booking links at www.cirqueberserk.co.uk.
Presenting the world's most dangerous circus act, the legendary Globe of Terror, with three motorcyclists speeding at over 60mph inside a steel cage, seen for the first time live on stage in the UK ("off the scale awesome" – Daily Telegraph).
Plus a troupe of over 30 jugglers, acrobats, aerialists, dancers, musicians and death-defying stunt men, joined by award-winning physical comedian Tweedy ("The best Clown I have ever seen" – The Guardian).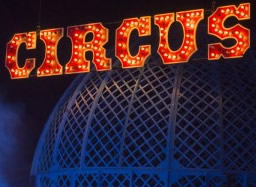 YOU could see the show FREE and win a unique prize – just enter our READER COMPETITION!
As prize-winner, you'll be given an exclusive photo-opportunity for yourself and your group to stand inside the motorcycle Globe of Terror before a performance and take your own photos with the dare-devil riders of Team Lucius on their stationary machines. Plus four VIP seats for Cirque Berserk.
Just answer this simple question:
Who is the award-winning physical comedian at Cirque Berserk?
Send your answer to: editor@wimbledonSW19.com to arrive by the closing date of noon on February 7.
Don't forget to include your name, email address, and a phone number. Please also put 'Circus competition' in the email subject area.
CIRQUE BERSERK WILL NOTIFY WINNERS AND WILL ARRANGE THEIR PRIZE SEATS SUBJECT TO AVAILABILITY. THE ORGANISERS' DECISION IS FINAL. DATA PROTECTION NOTE: IT IS A CONDITION OF ENTRY THAT COMPETITORS PERMIT THE CIRCUS TO HOLD THEIR CONTACT DETAILS; THOSE DETAILS WILL NOT BE PASSED TO ANY THIRD PARTY, BUT CIRQUE BERSERK MAY SEND ENTRANTS PROMOTIONAL MATERIAL.

January 2, 2017