A local resident reveals how she is coping in the current crisis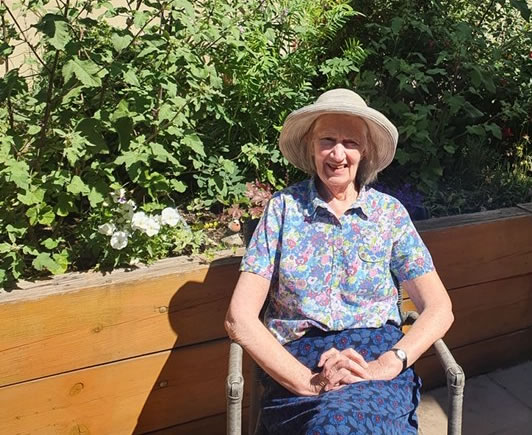 Jennifer Sullivan
Care homes have been under the spotlight during the coronavirus pandemic, with residents shielded from direct contact with their families. What has the confinement felt like for them? We put ten questions to Jennifer Sullivan, who lives in the Wimbledon Beaumont home in Aterberry Road:
1. How have you found life in Wimbledon Beaumont over the last couple of months as the country is dealing with COVID-19?
Even though we are in difficult times I have found life in Wimbledon Beaumont has been very good and supportive. The staff make sure I never lack anything I needed, and I still participate in daily activities with the practise of social distancing. I'm glad to have this wonderful team, and am always happy I made the right choice of care home.
2. What changes have you had to make to your life?
Not going out for shopping and not visiting the salon.
3. How have you dealt with not seeing family and friends?
Fairly well. I speak to my family and kids every day on the phone or Skype. Because of the commitment of the staff I do not really miss them or feel lonely.
4. What does day-to-day life look like living here?
Excellent, I have my breakfast in the morning go out to do my gardening, go for a walk in the beautiful garden and join in activities with other residents.
5. Have you had any new hobbies and interests during lockdown?
Yes, engaging in colouring, planting new plants bought for me by the activities team from the garden centre.
6. What activities are you currently enjoying?
1:1 session with carers and activities co-ordinator playing memory games, I love keep fit with Julie.
7. What would you like to do in the coming weeks?
Continue with my gardening and participating in activities.
8. Have you participated in the clap for our carers on Thursdays?
No, but I mentally think of them all and say thank you to them every day.
9. What has made you smile?
Dressing up in clothes I like and seeing the staff always smiling during this difficult time.
10. Have you received any donations from the local community in the past few weeks?
Yes, I have - hand creams from the nearby Norwegian school and a radio from a member of the community.
June 5, 2020