The homes they targeted included two in the Wimbledon area
Three men who stole hundreds of items of property from homes across south-west London, including the ashes of two children, have been convicted.
Marcin Lipiec, aged 37, Daniel Majewski, 26, and Piotr Pawlark, 32, all from Wills Crescent, Whitton, Richmond pleaded guilty to conspiracy to commit burglary at Kingston Crown Court.
The addresses they targeted for burglaries which took place in a two-week period during the run-up to last Christmas, included two homes in the Wimbledon area.
But the most heart-breaking one involved the ashes of two children being stolen in a burglary at a house in Castlegate, Richmond during the afternoon of Monday, 11 December. Along with items of jewellery, a maroon box was taken which contained the ashes of twins who died at birth.

The Wimbledon burglaries involved homes in Springfield Road, Wimbledon and Meadow Close, West Wimbledon.
The gang - pictured below Lipiec (left), Daniel Majewski (centre) and Piotr Pawlark (right) - were caught after police received a call at 7.38pm on December 12, 2017 to report a gold VW Passat driving slowly along Fitzgerald Avenue, into Buxton Road, Richmond, which the caller thought was suspicious. The caller reported the car's registration number and stated there were three white men in the vehicle.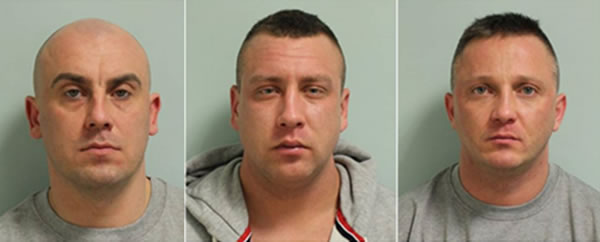 A few minutes later, police received a call to reports of a burglary in Buxton Road, Richmond. The victims were unable to get into their home as the front door had been barricaded from the inside.
The property's back doors were discovered to be forced open and an untidy search had been conducted. A safe, bank cards, passports and a laptop were reported stolen.
Officers looked into the reported suspicious car and it was shown to be registered to Piotr Pawlark.
Officers went to his his home address and saw the car parked on the driveway. Lipiec was also shown as being insured to drive the vehicle.
While outside the property, officers could hear a loud banging, metal on metal, sound coming from inside. They then saw two males approach the car, but on seeing police they ran back inside the address.
Police entered the premises where they found a large safe in the living room which had sustained lots of damage from where the suspects had attempted to open it using tools. It was later opened by police and the contents were confirmed to belong to the victims of the Buxton Road burglary.
Lipiec, Majewski and Pawlark, who are all Polish nationals, along with a 25-year-old woman, were arrested on suspicion of burglary. The three men were charged with burglary in the early hours of 14 December, 2017 while the woman was released under investigation pending further enquiries.
Officers searched the address in Wills Crescent and recovered more than 400 items of stolen property, along with tools often associated with going equipped to commit burglary such as crowbars, hammers and rubber gloves.
Following their arrest, detectives from Richmond and Kingston CID carried out a number of enquiries including analysing mobile phone data, checking ANPR data for the VW Passat, looking through police reports for burglaries with similar motives and sifting through the hundreds of items of recovered property. One of the items recovered was the box containing the children's ashes which was stolen from Castlegate, Richmond.
These enquiries linked Lipiec, Majewski and Pawlark to seven other burglaries. They were further charged with conspiracy to commit burglary offences on 26 February 2018. They will be sentenced on May 11.
The seven other burglaries took place at:

- Covington Way, SW16 on 12 December, 2017;
- Castlegate, Richmond, on 11 December, 2017;
- Linkfield Road, Isleworth on 9 December, 2017;
- Springfield Road, SW19 on 2 December, 2017;
- Riverdale Gardens, Twickenham on 1 December, 2017;
- Meadow Close, SW20 sometime between 30 November 2017 and 8 December, 2017;
- Rideway Road North, Hounslow on 29 November, 2017.
PC Jamie Oprey from Richmond and Kingston CID, said: "Lipiec, Majewski and Pawlark are prolific burglars who have caused misery and heartbreak for a number of families across London. I'm pleased they have today been brought to justice for their crimes.
"Thanks to some great detective work, we were able to link these three defendants to eight burglaries in London and I'm delighted that we were able to return hundreds of items of stolen property to their owners, including the children's ashes.
"I hope this highlights how important it is for members of the public to call the police when they see something suspicious, just like the caller did when they acted on their instincts about the VW Passat."
April 23, 2018