Wimbledon Bookfest Is Back This Autumn
---
Bringing the worlds of literature, arts and more to SW19
The ninth annual Wimbledon BookFest is back this autumn bringing the worlds of literature, the arts, popular culture, film and sport to the Big Tent on Wimbledon Common.
Headliners for 2015 include: global best-selling novelists Louis de Bernieres and Sebastian Faulks; Brit Award 'Critics Choice' longlisted George the Poet; TV adventurers Ben Fogle and Steve Backshall; and the biggest selling female historian of all time, Alison Weir.
Headlining the children's programme are poet Michael Rosen; actress and conservationist Virginia McKenna and, back by popular demand, the Wombles singalong!
The event will celebrate the 150th anniversary of Alice's Adventures in Wonderland with a Mad Hatter Storytelling event; and fans of Shaun the Sheep will be able to learn how to make their own models with Aardman Animations.
Events for schools include George the Poet; Steve Cole; Josh Lacey and performances by the Hip Hop Shakespeare Company.
The Festival also includes an eclectic programme of film screenings, live music, workshops and the popular comedy on Wimbledon Common event headlined by Seann Walsh.
Sports fans won't want to miss Brian Moore and friends talking about the upcoming Rugby World Cup and David 'Bumble' Lloyd discussing his cricketing memoir with John Inverdale.
Set on Wimbledon Common, a specially commissioned Big Tent seating up to 500, and an intimate William Morris themed marquee, provide the focal point for the festival. With Wimbledon Village on the doorstep, Wimbledon BookFest is one of the most appealing festivals in London today.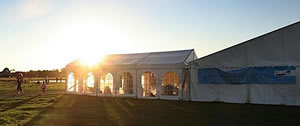 Festival Director, Fiona Razvi said: "Wimbledon BookFest is continuing to build on its reputation as a leading London book festival. This year we're broadening the scope of our programme to include more music, film and performance based events but at the heart of the festival there will be a full range of writers and novelists talking about topics as diverse as Magna Carta to Brit Pop Culture."
Other programme highlights include:
New BookFest partner, Hotel du Vin, Cannizaro House will host two events: Vogue editor Alexandra Shulman in conversation with Penny Vincenzi and an evening of perfume with Lizzie Ostrom.
Doctor and broadcaster Ben Goldacre talking 'Bad Science.'
Go back in time with Sir Max Hastings, Peter Snow, Tessa Dunlop, Tom Holland, Dan Jones.
SAS hero Andy McNab and psychologist Professor Kevin Dutton talking about how to use your 'inner psychopath' to get what you want out of life.
Discuss politics with Vince Cable, Chris Mullen and Charles Moore. Plus Stella Duffy will talk about the soon to be launched Women's Equality Party.
A day long writing course at historic Southside House with David Harsent, winner of the TS Eliot Prize for his poetry collection 'Fire Songs' and Professor of Creative Writing at the University of Roehampton.
Politician and daughter of poet Vera Brittain, Shirley Williams and Paul O'Prey, Professor of Modern Literature, University of Roehampton discuss women's war poetry.
Film Screenings include 'To Kill a Mockingbird' and the Wimbledon International Film Shorts Competition.



September 7, 2015