Star-Studded Line-Up For Wimbledon Bookfest
---
Sixth annual Bookfest will not disappoint
The headline event for this year's Wimbledon Bookfest is the appearance of world-renowned writer, Roddy Doyle.
The Bookfest, now in its sixth year, will run from September 28-October 13. Tickets have recently gone on sale to the general public.
Doyle (right), the author of ten novels for adults, seven books for children, seven plays and screenplays, and dozens of short stories, will appear at the "Big Tent" on Wimbledon Common at 6pm on Saturday October 12.
This year's line-up also includes Dan Snow, Peter Snow, Jonathan Agnew, Sir Max Hastings, Kate Adie, Andrew Motion, Roy Hattersley, Michael Palin, Darcey Bussell, Cerys Matthews, Margaret Drabble and The Wombles!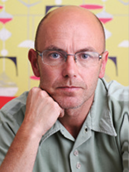 Merton Chamber of Commerce have organised a talk with one of the country's leading designers, Wayne Hemingway (left) in the Big Tent on from 9am-11am on Friday October 11.
He will tell his rags to riches story from selling second-hand clothes in Camden Market to building fashion brand 'Red or Dead' in the 80s, running his agency and becoming a leading spokesperson on design.
The talk will include elements such as entrepreneurial start-up and growth, building brands, creative industries education and the future of the high street.
August 23, 2013