Major festival is now underway in Wimbledon
Book and culture-lovers in Wimbledon now have feast of activity on their doorstep, with the town's fourth Bookfest.
Wimbledon Bookfest 2010 opened on Saturday October 2 with a launch event at St Mark's Church, including community stalls, as well as performances from Rock Choir and Dancebites.
It runs until Sunday October 10 when it ends with Salman Rushdie in conversation with Radio 4's James Naughtie in a "Big Tent" on Wimbledon Common.
The festival, now in its fourth year and run almost entirely by volunteers, has a host of events promoting the cultural life in the area throughout the week - some are already sold out.
Other famous names giving talks at various venues in Wimbledon include: Virginia McKenna, Toby Buckland, Tony Parsons, Virginia Ironside, Will Hutton and Peter Snow.

Saturday October 2 also saw crime writer Lynda La Plante (left) and actress Lynda Bellingham on stage in the Collyer Hall at King's College School. The two met as young students at RADA and their friendship has spanned many decades. The evening was chaired by Bookfest patron, David Wood.
Sculptor Antony Gormley (right)

presents 'One and Other' - covered the 100 days in which the fourth plinth in Trafalgar Square was occupied by a human - at Wimbledon College of Art on Monday October 4.
On the same night, there was an International Fiction event in Wimbledon library, where Jill McGivering, from nearby Putney, introduced her novel - The Last Kestrel, inspired by her work as a BBC correspondent in Afghanistan. Fellow authors Nadifa Mohamed and Marilyn Heward Mills talked about their books, Black Mamba Boy and The Association of Foreign Spouses.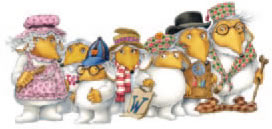 The famous Wombles from Wimbledon Common will be at home in the festival's new Big Tent on the Common, where they will make four sold-out appearances on Saturday October 9.
The Big Tent is also the venue for 'Local History', where a panel of local historians discuss the latest publications, and a talk on 'Pubs of Wimbledon' by Clive Whichelow. Both of these take place on Sunday October 10.
Fans of The Archers will enjoy joining one of its top creators, Joanna Troye, in sharing some of the radio drama's magic and trivia. This is also in the Big Tent, on Saturday October 9.
October 7, 2010