Review: Show offers puppetry, music, humour, rudeness and more
I wasn't sure what to expect when I took my seat in a packed New Wimbledon Theatre for Avenue Q's second stop in a new UK tour.
I knew there would be puppetry, mayhem, music, humour and a touch of rudeness as the lives of the residents of a rundown New York neighbourhood were played out to an audience that was distinctly younger than the usual SW19 crowd.
What I didn't expect as the show started with new English graduate Princeton moving into Avenue Q, was to be so convinced by the puppets that their puppeteers soon melted into the background.
The play was first performed off-Broadway in 2003, but the themes it touched on as the story unfolded were very relevant today. Princeton wants to discover his purpose in life, as does his monster neighbour Kate.
Also on the block are "in the closet" Republican Rod, Lucy the Slut, a sex-crazed Trekkie Monster and human couple, Christmas Eve and Brian. The apartments are rented out by another human (ie non-puppet) called Gary Coleman - yes, he is based on the 'Different Strokes' actor who died in in 2010.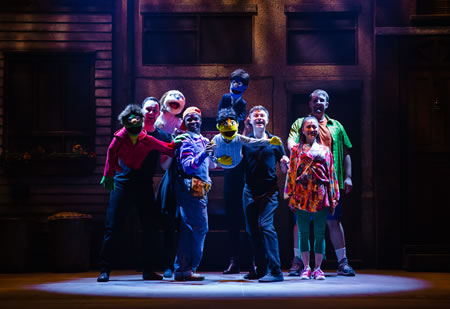 It's packed with more than 20 songs, and with titles like "If You Were Gay", "Everyone's a Little Bit Racist" and "I'm Not Wearing Underwear Today", you can see why it's not a show for the easily offended.

The funniest routine for me was Trekkie Monster (think Sesame Street's Cookie Monster) joining in with "The Internet Is For Porn". It was at this stage that I stopped looking at the puppeteers and concentrated on the puppets themselves. It's hard to explain how expressive they could be - reflecting the obvious talent of those operating them.
There isn't much of a story, and what there is plays out as you'd anticipate to a 'happy everafter ending'. But that doesn't matter because watching the puppets perform their roles is both fascinating and enjoyable.
The set is reminiscent of TV's Sesame Street and thoughts of that show were never far from my mind. But this really is a show for adults, although not necessarily those who can remember Sesame Street in its 1970s heyday.

The original version of Avenue Q ran in the West End for five years from 2006. If you didn't see it then, you can see this production at New Wimbledon Theatre until Saturday (February 9).

By Sue Choularton
February 6, 2019