Chance to buy from local artists
Wimbledon Art Studios is about to host one of its twice-yearly Open Art Shows.
The complex of studios just off Plough Lane in Riverside Yard, Riverside Road, Earlsfield, is home to more than 200 artists covering fields including printmaking, furniture, painting and ceramics.
It's the largest single site art studio complex in Britain and has recently opened another 55 studios.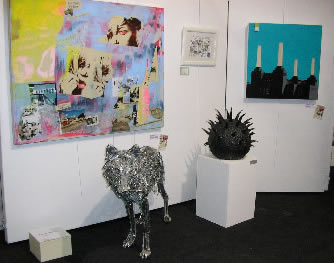 The two buildings form a massive maze of studios, but friendly staff will be on hand during the event, from May 10-13 to point you in the right direction and it's very well sign-posted. No tickets are necessary.
Visitors will find some pieces displayed (the picture above is from the November show) in the main entrance, but the majority of the artwork is shown in each artist's own workspace.
The last Open Studios art show in November attracted more than 4,000 people, offering the public chance to buy directly from the artists.
Opening times are Thursday and Friday from 2pm-10pm; Saturday and Sunday are 11am – 6pm. There's free parking nearby in Riverside Road.
May 2, 2012