Investigators praised for their dedication
Two Brazilian teenagers have been jailed after a series of armed robberies around South Wimbledon and Wimbledon Chase in December 2012.
There were four robberies in the area in which the victims, one a 14-year-old girl, were threatened with a handgun.
The first robbery took place on December 27, 2012, at around 8.40pm in the Chase alley, which runs between Merton Hall Road and Kingston Road in Wimbledon Chase. The victim, a 14-year-old girl, was robbed of her mobile phone.

A second robbery took place minutes later on Kingston Road and the 21-year-old victim was robbed of his wallet.

On both occasions the individuals were threatened with a black handgun before the suspect ran off in the direction of South Wimbledon.

On December 31 a third robbery took place at 14.45hrs on Kingston Road, where the victim was threatened with a gun. The suspect demanded that victim hand over any money he had before the suspect fled from the scene.

Ten days later a lone woman walking in the Wimbledon Chase area at around 11pm was approached by two men. One of the men held a gun to her head and demanded she hand over her bag. Both suspects then walked off in the direction of the train station.
Two men charged in connection with the offences were found guilty at Kingston Crown court on August 8. One of the men - Lohan Souza, aged 18, who was living in Kingston Road, Wimbledon - was jailed for four years. The other man - Diego Barbosa, aged 19, who was living in Worceser Park - was jailed for three years and nine months.
The two men are Brazilian nationals and they will be deported following completion of their jail terms.
They had been arrested after police, who suspected they were using the tram network, went through hours of CCTV footage.
They then identified one suspect as he boarded at train at Worcester Park. They followed him andd detained him as he was about to commit another offence in Wimbledon. The second suspect was arrested later and the firearm used in the offences was then recovered.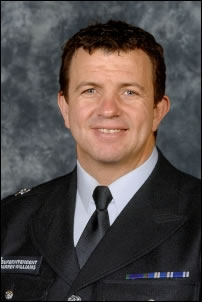 Merton borough commander Darren Williams (left) said: "The investigation team had to work many hours over Christmas and New Year to try to solve the case, and missed out on precious time with their friends and families. Enquiries took them all over London.
"The judge offered his praise and thanks to the officers who worked on the case, highlighting the quality of the investigation and their personal professionalism and dedicated. They will be formally recognised at our next commendation ceremony."
August 23, 2013