Stephen Hammond Retains Wimbledon Seat
---
Tory candidate holds with a reduced majority
The constituency of Wimbledon has been won for the Conservatives by Stephen Hammond (pictured below), who received 46% of the vote - a fall from the 52% he received in 2015.

Mr Hammond gained 23,946 votes for a 5,622 majority when the result was declared at 2.40am today (June 9). It was a fall from the 12,619 majority he won in May 2015.
Turnout was 77.3% compared with 74% in 2015, when Mr Hammond received 25,225 votes (52%) compared with the 12,606 (26%) of Labour's Andrew Judge.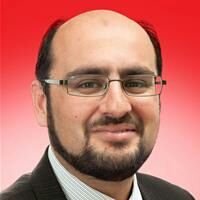 In 1997 the Conservatives lost the constituency to Labour for the first time in nearly 50 years.
Labour retained the seat in 2001, but the Conservatives won it back in 2005 when Mr Hammond, aged 55 and a former Transport Secretary, became MP.

The law firm run by Labour's 2017 election candidate Imran Uddin (pictured above) has recently been closed down because there is reason to "suspect dishonesty".
| Candidate | Party | Votes | % |
| --- | --- | --- | --- |
| Stephen Hammond | Conservative | 23,946 | |
| Imran Uddin | Labour | 18,324 | 36% |
| Carl Quilliam | Liberal Democrats | 7,472 | 15% |
| Strachan McDonald | UK Independence Party (UKIP) | 553 | 1% |
| Charles Barraball | Green | 1,231 | 2% |
| Total | | 51,526 | |
| Turnout | | 77.3% | |
Siobhain McDonagh took the Mitcham and Morden constituency for Labour. She held her seat with 33,039 votes, 69% of the total vote. This was an increase on the 27,380 votes (61% of the poll) she received in 2015.

June 9, 2017