Launch party for new volunteer group
A party is being organised to mark the launch of the Friends of West Barnes Library, who are working to keep the facility open for five days a week.
It takes place at the library in Station Road, Motspur Park, from 2pm-4.30pm on Saturday June 25.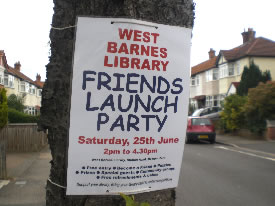 Following council cutbacks, the library will be using volunteers to help it stay open.
Their first day of 'solo' volunteering will be Monday July 4 and this event marks their support.
Local groups are invited to bring a table or display to the event, which will include free refreshments and cakes, special guests, puzzles and prizes.
Membership secretary Sarah McAlister said: "The Friends of West Barnes Library has been started with the aim of keeping our local library open for five days a week, using the talents of volunteers to assist the library staff and to improve and encourage more use of the facilities it has to offer."
Friends secretary Bob Forsberg said: "In the past few weeks, dozens of volunteers have come forward to help keep the library open on Mondays. Without their hard work, it would have been closed every Monday from July 4 onwards.
"Everyone is invited to our official Launch Party to help celebrate their support. But we do need more people to join West Barnes Library and be active users, borrowing books and DVDs, and to make full use of this fantastic community facility."
The group now has 15 fully trained volunteers for the Monday openings with a further 25 to come on board shortly. However more volunteers are required to take on the position of Volunteer Supervisor which will be responsible for running the library when staff are not present, including opening and closing the building when required.
Councillor Martin Whelton, cabinet member for community and culture said: "With the difficult financial times we face, it's essential that we find creative ways to continue to deliver services to residents with reduced budgets. It's impressive to see so many in the local community getting involved in running their library and allowing continued Monday opening at West Barnes library."
While the Friends Group at West Barnes Library have decided to keep their site open, the Friends of Donald Hope Libary in Colliers Wood have decided not to go ahead with keeping Donald Hope Library open on their proposed day closure.
From July 8, Donald Hope Library will close an extra day per week on Fridays, but the Friends of Donald Hope will focus their attentions on promoting the library service and providing volunteer support throughout the week.
June 19, 2011