New Ursuline High School facilities are opened
Sports broadcaster Clare Balding made a surprise appearance at the opening of Ursuline High School's first playing fields since the Wimbledon school opened 125 years ago.

The state-of-the-art centre has been built by Berkeley Homes as part of the Wimbledon Hill Park development. It includes three grass pitches, a multi-use hall, a pavilion and changing rooms.
The centre will provide sports facilities for over 1,300 pupils at Ursuline High School, a voluntary-aided comprehensive for girls. It will also be available for use by the community outside school hours.

Ursuline's playing fields were originally part of the former Atkinson Morley Hospital grounds, purchased by developer Berkeley Homes for housing. As part of the planning agreement for the homes development, the site was passed to Merton council.
Part of the grounds renamed Morley Park will be leased to the school for 99 years by the council who will be the freeholder of the land.
Cabinet Member for Education, Councillor Caroline Cooper Marbiah said: "Ursuline High School is one of the borough's oldest as well as one of Merton's top performing schools. It is excellent to see the school benefit from these modern sport facilities, encouraging participation in sports for future generations of Ursuline pupils."
Ursuline High School head teacher, Julia Waters said: "This is the first time in the school's 125 year history that we have access to a permanent facility. We are passionate about promoting girls sports so this is really a landmark moment for us."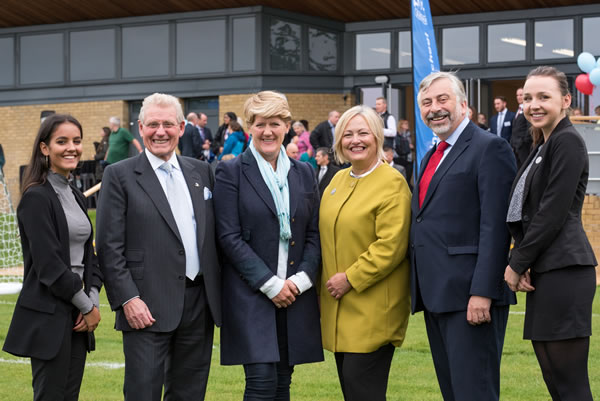 At the official opening, sports presenter Clare Balding highlighted the importance of sport in life including commitment, perseverance and the ability to pick yourself up after a loss and come back stronger.
She said: "I wasn't good at sport and spent more than my fair share of time on the bench. But it never stopped me enjoying it. Women's success in sport is now overtaking the men's teams as we have seen with recent performances in cricket hockey and football."
Tony Pidgley CBE, Chairman of the Berkeley Group said: "Sport is fundamental to a great community. I know how important this facility is to the school and local neighbourhood. It will host all kinds of events and be a fantastic place for everyone to enjoy. I am absolutely delighted to hand over the pavilion today."
In addition to the sports pavilion and pitches, Berkeley Homes has also built a two bedroom cottage to provide income for the adjacent Morley Park. The revenue from this will be spent maintaining the surrounding 19 acres of parkland.
September 15, 2017