Controversial changes to start in South Wimbledon on Monday
The ticket office at South Wimbledon station will close from Monday (February 2).
South Wimbledon (below) is one of the first of hundreds of stations across London to see the controversial changes introduced.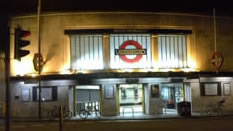 From Monday, there will be no fixed position in the station from which you can buy a ticket, but staff will be available to sell tickets around the station.
A notice at the station says staff will be deployed around the ticket hall to help customers and some work will also be taking place at the station from Monday.
Elsewhere on the Northern Line, the work is set to start on Colliers Wood station in July and take three months. Work on Morden station will take place from October to December.
On the District Line, there is expected to be one month of work taking place at Wimbledon Park from April to June.
The plans have been described as 'lethal' by the RMT union who continue to threaten strike action over their implementation. Despite the closures it is understood that under these plans the stations will be staffed for the same hours as they are currently.
London wide Assembly Member Fiona Twycross believes that there will be a loss of almost 900 staff cut from tube stations across London.
Ms Twycross commented: "This fight isn't about whether staff are based in ticket offices or on platforms, it's about whether there are enough staff overall to provide customers with a good service, particularly the elderly and disabled.
"Before he was elected Boris Johnson promised voters that he would not close any of the capital's ticket offices, now he is set to axe them all. Londoners will have to ask how much the Mayor's word is really worth."
Richard Tracey Assembly Member for Merton & Wandsworth supports the changes saying:
"My view has not changed about London Underground ticket office closures. This is part of the future of the Tube. TfL statistics show just 3 per cent of travellers ever use ticket offices as most use Oyster, contactless cards, or ticket machines to travel. The aim is to get all staff out into the ticket halls and on to the platforms directly helping travellers. TfL say they have offered job opportunities to all the ticket office staff. I am looking forward to the Putney tube stations and all others in my constituency being more open and spacey with chances of commercial outlets and good direct service for passengers".
Transport for London warn that the dates are subject to change and confirmation will be provided nearer the time of the proposed works. Customer notifications will appear in stations at least two weeks before any changes take place. 85 per cent of all closure across the network will be completed by December 2015.

January 28, 2015