Duo threatened and assaulted passengers
A Colliers Wood man and his accomplice have been jailed for ten years after targeting Northern Line passengers with threats of violence and thefts.
Tyrone Harris (pictured top right), aged 29, of Shelley Way, Colliers Wood, and Frankie Spink (below right), 25, of Garratt Lane, Tooting, threatened, assaulted and attempted to steal from tube passengers earlier this year.
After the offences, Harris continued on a solo campaign to harass passengers in a series of attacks.
Around 8pm on Wednesday February 1, Harris and Spink engaged in what witnesses described as "blatant attempts to steal from passengers" on a train between Tooting Bec and Clapham North Underground stations, threatening violence and leaving many fearing they would be assaulted.
Detective Sergeant Tom Madden, from British Transport Police, said: "When the train arrived at Clapham North, they followed a 23-year-old man and, unprovoked, punched him in the head and face several times, leaving him with cuts and bruising.
"Following the attack, Harris continued to offend alone. Moving to the Victoria line, he took on a new method to threaten people, using a pen to assault and threaten people on at least three separate occasions."
Later, around 10pm, Harris approached a 20-year-old man on a southbound Victoria line train as it arrived at Pimlico and tried to steal his BlackBerry, wounding him in the face with the biro pen when his attempt failed.
Just fifteen minutes later Harris approached another passenger on a southbound Victoria line service between Vauxhall and Stockwell, demanding the victim hand over money and his mobile phone. The victim refused and Harris again attacked using a biro, causing a puncture wound and bruising on the victim's face.
Harris finally managed to steal a mobile phone from a man in Brixton, but police officers located him soon after the theft in a local fast food establishment.
At an earlier hearing at Blackfriars Crown Court on July 6, Harris pleaded guilty to seven counts of attempted robbery and assault while Spink pleaded guilty to attempted robbery and affray.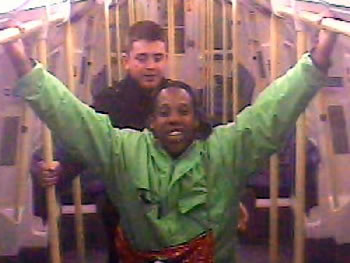 Appearing for sentence at the court on August 16, Harris was jailed for seven years and will spend four years on licence after being released. Spink was handed a three-and-a-half year prison sentence.
DS Madden added: "Thankfully violent offences like this are extremely rare on the London Underground network but, when they do occur, they are treated with the utmost severity by investigators.
"Harris and Spink's tactics were thuggish and predatory; solely targeting those they assumed wouldn't retaliate.
"The pair clearly thought they could get away with it but didn't count on brave witnesses willing to testify against them, nor the excellent quality of CCTV footage catching them in the acts.
"The accounts of witnesses, combined with excellent CCTV evidence, gave both no other option but to plead guilty to their offences."
The two men are pictured above on the tube's CCTV.
Steve Burton, Director of Community Safety, Enforcement and Policing at TfL said: "The actions of these two men caused fear to not only the victims, but a number of other passengers who witnessed these attacks over a sustained period, and we are happy with the sentences that have been handed down to both offenders.
"Although crime on the Tube network is low - with just 9.6 crimes per million passenger journeys - and offences like these are rare, we will continue to work with the British Transport Police to ensure that anyone who commits a criminal offence on the Tube will be caught and we'll always push for the harshest penalty possible."

August 24, 2012