Review: The Ocean at the End of the Lane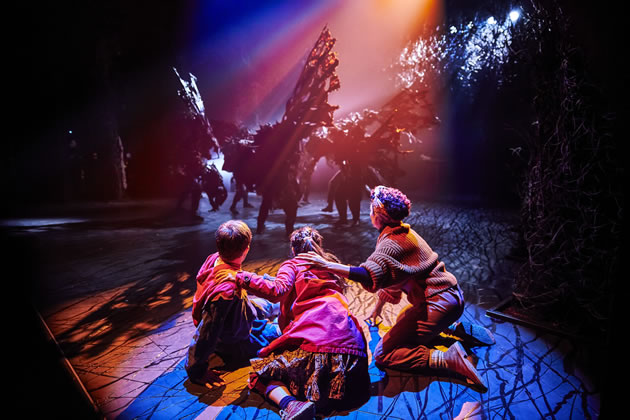 Keir Ogilvy (Boy), Millie Hikasa (Lettie), Kemi-Bo Jacobs (Ginnie) and cast
Let your imagination come to life with a visit to New Wimbledon Theatre this week to see the spine-chilling stage version of Neil Gaiman's novel, 'The Ocean at the End of the Lane'.
You'll be gripped by the amazing theatrics as a man returns to his childhood area for a funeral, and takes a wander down his own memory lane into the farm run by the Hemstock family. He is gradually reminded of a bizarre series of events that took place when he was a 12-year-old boy, and a keen bookworm.
They begin with the stark re-creation of the suicide of a lodger staying with the boy's family, which sparks a bizarre chain of incidents where money seems to appear in strange circumstances. Yes, you really do have to set your normal boundaries aside as this magical drama unfolds.
The boy (played by Keir Ogilvy), is never named, but he soon makes friends with Lettie Hemstock (Millie Hikasa) and as they play by her farm's duck pond a coin suddenly emerges in a floating dead fish. Back at home with his widowed father (Trevor Fox) and sister (Laurie Ogden), the boy is shocked when he coughs up a coin from his own throat.
It seems a spell has been cast on the boy and his family, and he needs the Hemstocks to break it. On the way, the scenery and lighting offer an amazing feast for the eyes. The stage magic is also phenomenal as the family's new lodger Ursula (Charlie Brooks) disappears from one part of the stage to appear unexpectedly elsewhere.
There's a touch of horror too, as the story tells how the boy has let an evil worm infiltrate his body through a hole in his hand. The worm has to be released and it makes for some gripping drama on the way.
This play has simply everything, including some fantastic puppetry work as an horrific beast attacks our hero and heroine. There's even some spooky levitation as Ursula is revealed to be the evil spirit/worm.
A mention must also go to the music, by composer Jeherek Bischoff, which helps complete the drama's rarefied atmosphere. The play is not without its humour and it will definitely raise a smile as well. It really was a fantastical night to remember and richly deserving of its standing ovation.
By Sue Choularton
April 12, 2023