Wit, Plot Twists And The Music Of Take That Makes For An Enjoyable Show
---
Review: "The Band" at New Wimbledon Theatre
Introduced to five young fans of The Band, the girls make a pledge on 'the band' to reunite in 25 years, at a place they found themselves on their fateful journey home after their first time at a Band concert.

However, the loss of the mainstay of their group leads to the friends drifting apart and it isn't until Rachel, played as an adult by Rachel Lumberg, wins a competition to see the reformed Band in Prague, coincidentally 25 years later, that they are reunited at the airport and we gradually find out how life has turned out very differently for the remaining four friends compared to the expectations of their 16-year-old selves.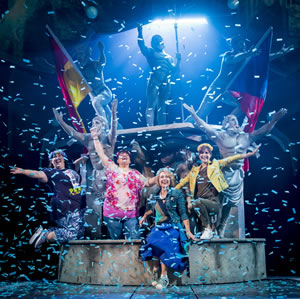 With the first Act setting the scene with the young versions of the girls, the second follows the exploits of the older ones in Prague and them getting to know each other again, the actors playing both sets of girls do so with sensitivity as well as considerable comedic talent. Other characters are Rachel 's partner Jeff who is instrumental in the final scene and the ubiquitous Every Dave playing an array of other characters with great hilarity.

It has a relatable plot and is well written with witty dialogue and the introduction of the music of Take That fits smoothly into the story. Chosen from the BBC 'Let It Shine' program last year, AJ, Nick, Curtis, Yazdan and Sario perform the bulk of the music with great enthusiasm, changing from scenes where the they appear in young Rachel's bedroom to concert-like performances and appearing as other characters such as luggage handlers. While I wasn't sure about the gladiators' theme of 'Relight my Fire', the interpretation of the (Wenceslas?) fountain in Prague was very impressive.




Inevitably, there will be comparisons with 'Mamma Mia' but, personally, I liked this plot better and must admit to getting a bit emotional at the end which is a good indicator of how much I enjoyed the show! In any case, I am certain that this show will appeal to a much wider audience than just Take That fans.

By Anne Horsburgh

The Band is at New Wimbledon Theatre until Saturday (October 27). It will be in the West End for 50 shows from December 1.
October 25, 2018