Commons' Conservators remind owners to keep their pets on a lead
Wimbledon and Putney Commons' Conservators have warned dog-owners to take care of their pets after an out-of-control dog attacked a swan in the middle of Queensmere.
The owner of the dog had to wade into the water to physically retrieve his dog as it attacked the male swan in the popular local beauty spot.
The Conservators released this statement: "For over 10 years we have asked visitors to keep their dogs on a lead around Queensmere and to keep them out of the water. The reason for this is two-fold: firstly, to protect our breeding waterfowl. They choose to breed at Queensmere and it is a vulnerable site so we have to help them as much as we can, particularly our pair of resident swans.
"Secondly, to protect your dogs. An attack by an adult male swan defending his mate and cygnets can result in serious injury to your dog.
"Despite signs in the area informing visitors that dogs must be on leads, and information on our website and across all our social media platforms, this weekend saw an all-out attack on the cob and illustrated the reason why we ask this of dog-walkers."
They had to call The Swan Sanctuary charity from Shepperton to catch the swan. They confirmed he only suffered minor injuries and could be released back on the water.
The Conservators added: "If the owner of the dog would like to come forward, we'd be happy to chat through the requirements in respect of responsible dog walking here on the Commons."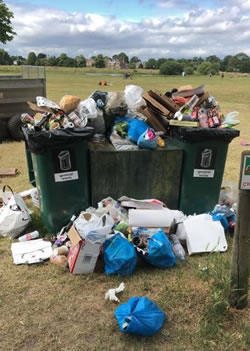 They are also asking visitors to take their rubbish home after last weekend (June 13 and 14) saw litter piled next to full bins.
They said staff worked from 5am to 3pm on both days dealing with rubbish in the Rushmere area alone. Their rubbish disposal costs have increased from £800 a month to £5,000 a month.
"We have put the message out – "if the bins are full, take your litter home" – but the message is clearly not getting out there as far as we'd like.
"We are now hoping to install additional bins and signage, at some substantial additional expense at a time when WPCC, the charity that manages the Commons, has lost significant income.
"We are grateful to everyone who has been supportive and/or are giving their time to help, particularly local residents on all three Commons, our regular litter-pickers, at Wimbledon Village Stables. Our team is incredibly grateful."
June 17, 2020