Medal success for other local fencers
The Wimbledon fencing team won tbe Barwell Cup for the second successive year at an event on Sunday (October 23).
The team (pictured below) of Marco Russo (épée), Michael O'Keeffe (sabre), Monica Sisiu (women's foil) and Hilmi Sergen (men's foil) retained the cup at Epsom College beating teams from Streatham and Kingston fencing clubs.
Marco and Monica also won gold in their individual weapons.
This follows the success of Sofia Hossain (below right) who won bronze at the under 13 Leon Paul Junior series épée in Plymouth on October 9.
On Saturday (October 22) club captain, Mark Richardson (below left) won individual bronze in Cyprus at the Nicosia friendship cup épée competition then, fencing for Crete, won silver in the team event at the Evangelos Florakis Stadium.
If you'd like to learn about the Olympic sport of fencing, Wimbledon Fencing Club runs regular beginner's classes. Go to Wimbledon Fencing Club to find out more.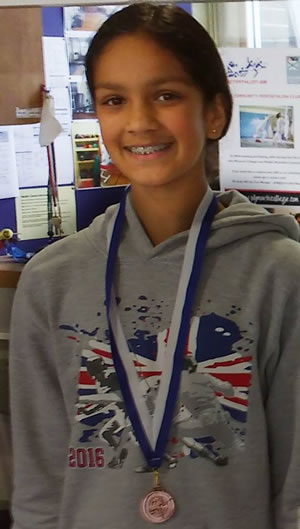 October 26, 2016