Belmont in Sutton is picked as location for new specialist emergency care hospital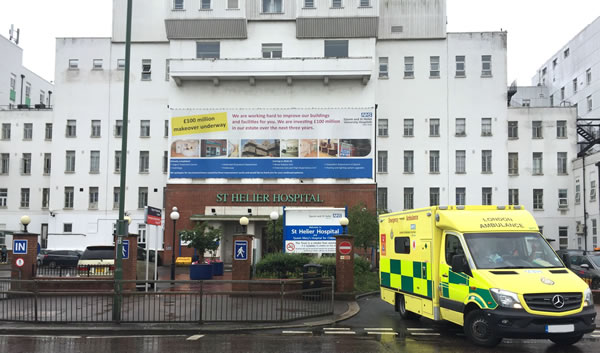 Sutton has been picked for or the location of a new specialist emergency care hospital, which means St Helier Hospital (above) will lose key services, including its A&E department.
The decision was announced at the end of an online meeting of the Improving Healthcare Together Committees in Common today (July 3).
It followed a public consultation into the future of St Helier and Epsom Hospitals, with the NHS stating its preferred option was for a new dedicated emergency hospital in Sutton, and for the other two to be downgraded, losing their A&E departments. St Helier will also lose its maternity services and children inpatient beds.
Earlier this year, NHS bosses had sought to allay concerns that journey times will be increased if a single emergency unit opens at Belmont in Sutton while Epsom and St Helier Hospitals lose theirs.
As part of the consultation Improving Healthcare Together published 'baseline travel analysis'. The consultation stated: "If the specialist emergency care hospital is built at Sutton Hospital, this is likely to be the best option in terms of accessibility for the local community.
"In the more densely populated areas of Merton and Sutton, many people would be likely to be able to travel to Sutton Hospital or a hospital outside our combined area within 15 minutes."
The changes will come as £500 million is set to be invested in health services in Sutton, Merton and Surrey Downs. Of this, £80 million is set to be invested in Epsom and St Helier hospitals.
Dr Andrew Murray, Merton CCG chair and a Wimbledon GP, has previously pointed out that even if the Sutton option is chosen, both Epsom and St Helier will have a 24-hour urgent treatment centres.
Following the decision, Merton Council Leader Stephen Alambritis, who has opposed the plans to effectively downgrade St Helier, said: "We are very disappointed by today's decision. It is clear that the needs of Merton's residents have been pushed aside.
"The impact of the Covid-19 pandemic has not been adequately considered. They have failed to take account of the impact on deprived communities of the proposals.
"Taking A&E, children's inpatient beds and maternity services out of St Helier Hospital is a terrible decision. We will be reviewing the actions we can take in the interests of Merton residents."
But Wimbledon MP Stephen Hammond tweeted: "Welcome news that @IHTogether approved the £500m investment in our local healthcare system. This means a new hospital at Sutton and huge upgrade to the services and building at St Helier.
"After years of delay, let's get this done and give local people better NHS services."
July 3, 2020