Report recommends building new hospital in Sutton providing major acute services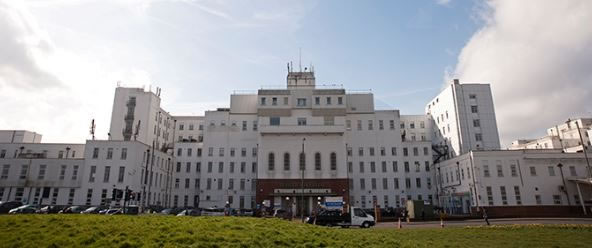 Downgrading St Helier Hospital is the favoured option of a report into hospital services for Merton and neighbouring areas.
The future of the hospital, which lies just over the Merton border but provides services to thousands of people in the borough, has been under threat by a review of local hospitals.

Now the Improving Healthcare Together 2020-2030 draft pre-consultation Business Case put together by the Clinical Commissioning Groups covering Merton, Sutton and Surrey Downs has favoured an option to build a new hospital in Sutton while effectively downgrading St Helier and Epsom Hospitals.

The report, which will be submitted to NHS England for assurance, puts forward an option where St Helier and Epsom Hospitals keep around 85% of their services, including A&E departments. But a new hospital would be built in Sutton to provide major acute services including:
• Major emergency department
• Acute medicine
• Critical care
• Emergency surgery
• Inpatient paediatrics
• Obstetrician-led births.
The report states that Epsom and St Helier University Hospitals' Trust buildings are ageing and says 90% of St Helier is older than the NHS itself, with the 16th highest backlog of maintenance in the country.
But Leader of Merton Council, Councillor Stephen Alambritis, has vowed to continue to "fight" for St Helier Hospital to retain all its services.
Councillor Alambritis said: "We have a long-standing commitment to ensure that residents of Merton have access to a full range of NHS acute services on the St Helier Hospital site, including a blue light A&E and consultant-led maternity service.
"We could not be clearer in our opposition to any closure or downgrade of services at St Helier Hospital. I'm extremely disappointed that the Trust and the CCG appear to prefer an option that would remove essential services at St Helier. This is despite the overwhelming evidence of local need, and the clear opposing voice of Merton's residents through the various engagement processes undertaken to date."
The Leader expressed concern about the impact on communities around the existing St Helier Hospital site. He said: "Attempts to relocate acute services away from St Helier in favour of a more affluent area, such as Belmont or the Royal Marsden site, would be incompatible with the statutory duty on the Clinical Commissioning Group, which is about tackling health inequalities.
Accessing acute health services will be significantly more difficult for our residents who suffer the greatest level of inequality.
In addition, the potential increase in demand for other providers, particularly for St George's in Tooting, as a result of any downgrade of provision at St Helier Hospital, is of great concern, as a lot of Merton residents rely on that hospital too. We will continue to do all we can to fight for St Helier Hospital to retain its full suite of services and to get the investment it needs."
July 31, 2019