Station Watch scheme is being piloted by South Western Railway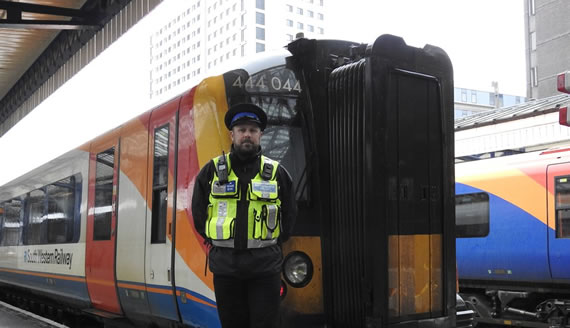 Anti-social behaviour at Wimbledon station is being tackled by a new Station Watch scheme being launched by South Western Railway (SWR).
It is one of ten stations across the network piloting the initiative which would be rolled out to other stations on the route, following a review this Autumn.
SWR says the Station Watch Scheme is designed to create an environment that reassures customers and employees and deters anti-social behaviour.
The stations covered by the new scheme are Basingstoke, Bournemouth, Clapham Junction, Guildford, Richmond, Southampton Central, Staines, Surbiton, Wimbledon and Woking.
Each station will have a tailored plan that will include:
Targeted patrols by South Western Railway's Rail Community Officers.

Rail Community Officers delivering security awareness sessions to passengers twice a year.

Closer partnership arrangements with Network Rail and British Transport Police.
Alessandro Finistrella, Senior Security & Route Crime Manager, at SWR said: "Travelling by train is very safe and the number of crimes on the SWR network has fallen by over 11% since March 2018. However, we are not complacent and are determined to drive down anti-social behaviour and criminality further. We all have a role to play in making the rail network safer and we would ask everyone who uses the it to support the Station Watch Scheme."
Paul Calvert, Network Rail station manager for Clapham Junction and Guildford, said: 'We're committed to working closely with our stakeholders to make sure our stations provide safe and welcoming environments for passengers on our network.
"South Western Railway's Station Watch scheme is a great initiative which will see our station teams working closer together for the benefit of passengers."
Customers who see any suspicious or anti-social behaviour should contact a member of staff or British Transport Police on 0800 40 50 40 or via text on 61016. In an emergency always dial 999.
April 4, 2019