Motorists were advised to avoid the area
There was more traffic chaos than usual today (February 1) at the busy crossroads outside South Wimbledon tube with the traffic lights failing for most of the day.
The traffic lights first failed at 2am because of a faulty part and were still out of action by mid-morning.
A large group of TfL stewards were controlling the traffic at the A219 Morden Road and Merton High Street junction, as motorists were advised to avoid the area if possible.
As the evening rush-hour approached the lights were still not working, with one of the stewards on duty reporting that the engineer working on the fault had gone to collect a part.
Around 8pm @TfLTravelAlerts reported that the lights had finally been fixed.
There were also reports of power cuts in South Wimbledon on the previous evening as well as in Merton Park during the day today.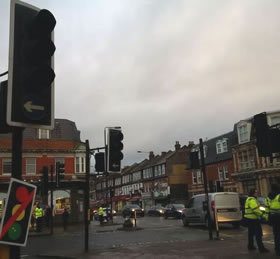 February 1, 2017